Back to top
Tasty Chicken Pozole Verde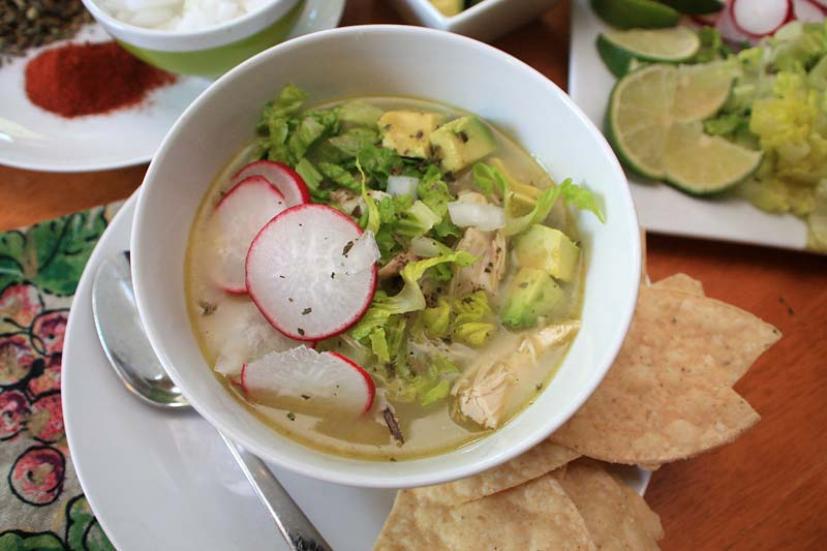 Cinco de Mayo is coming up, so why not make a classic Mexican recipe for dinner? Pozole, a hearty soup based on nixtamalized corn, also known as hominy, is considered one of Mexico's national dishes. Usually you'll encounter it in its red form with red chiles and pork, but I think the green version is just a delicious.
Instead of using dried red chiles to flavor the broth, this green pozole feautures tomatillos, jalapeños, and ground toasted pumpkin seeds. This is definitely not a throw-it-together-after-work recipe. It's slow food at its best, and you can use even use your slow cooker if you like. While you can make this with canned hominy and it will still be delicious, definitely try to prepare it using the real deal, which comes dried. You need to cook it slowly for hours (, but the texture and flavor are superior.
It's fun for each diner to customize their bowls of pozole: add crisp lettuce and radishes, creamy avocado, crushed tortilla chips, tart lime juice, Mexican oregano, sliced jalapeños, and spicy ground red chile.
Ingredients
1 4–5 lb whole chicken
8 cups water (or enough to cover chicken)
1/2 white onion
A few sprigs of cilantro
1 tablespoon kosher salt
12 ounces dried pozole or hominy or 2 15-ounce cans hominy
1 head garlic
4–5 sprigs cilantro
For the green pozole sauce
1 lb tomatillos
1 or 2 jalapeño chiles
3 gloves garlic
1/2 cup chopped white onion
2 tablespoons olive oil
Salt to taste
Garnishes
Sliced radishes
Shredded romaine lettuce
Diced avocado
Sliced jalapeños
Diced white onion
Mexican oregano
Ground red chile
Good quality tortilla chips 
Directions
If using dried pozole/hominy: Put dried pozole in a large pot and cover with water by at least three inches. Add a whole head of garlic after removing the loose outer skin. Cook for at least three hours or until corn "blooms" and is tender, then drain.
While hominy is cooking add chicken, half a while onion, a tablespoon kosher salt, and a few sprigs of cilantro to your slow cooker. Cover with water and cook on hight heat until chicken is tender, about 4 hours. You can also cook it on the stovetop in a Dutch over or stock pot for an hour.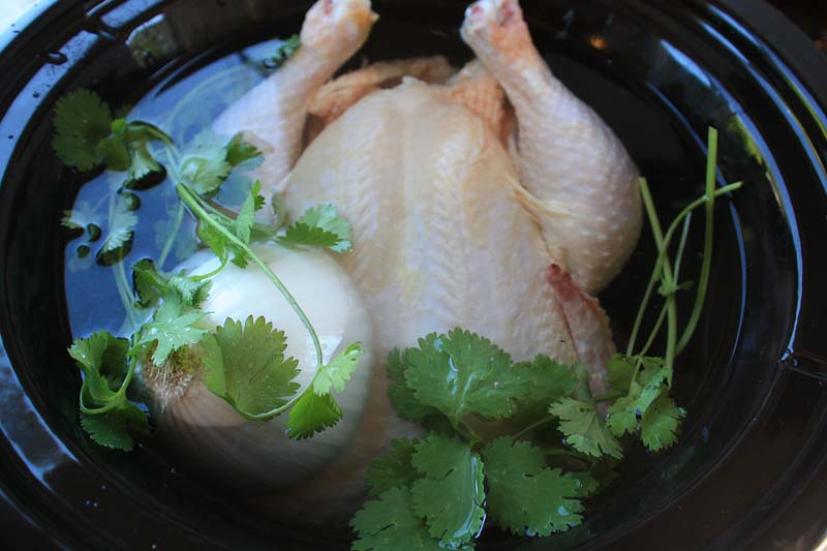 To make the green sauce, place tomatillos, jalapeño, and 3 garlic cloves in a medium saucepan. Cover with water and and bring to a boil, then reduce heat and simmer about 10 minutes or until tomatillos soften and turn a dull green color.
Toast pumpkin seeds briefly in a small skillet, then put in a food processor or blender and pulse until finely ground. When vegetables are done, add to food processor along with onion and 1/2 cup of the vegetable cooking water. Process into a smooth sauce.
In a large skillet, heat olive oil, then pour in sauce. Bring to a boil then reduce heat and simmer for 15 to 20 minutes, stirring occasionally until it reduces a bit and the color darkens. Season with salt to taste.
When chicken is done, remove from cooker and set aside until cool enough to handle, then shred meat and discard skin and bones. Pour chicken broth through a strainer and set aside.
Add sauce, chicken, chicken broth, and 4 or 5 cilantro sprigs to the pozole. Stir to combine and bring back to a boil. Reduce heat to low and simmer for another 30 minutes. Check seasoning and add more salt if needed.
Ladle into soup bowls and pass garnishes at the table.
Sign up for tips & news for Marin families!