Back to top
Three-Cheese Mac and Cheese with Cauliflower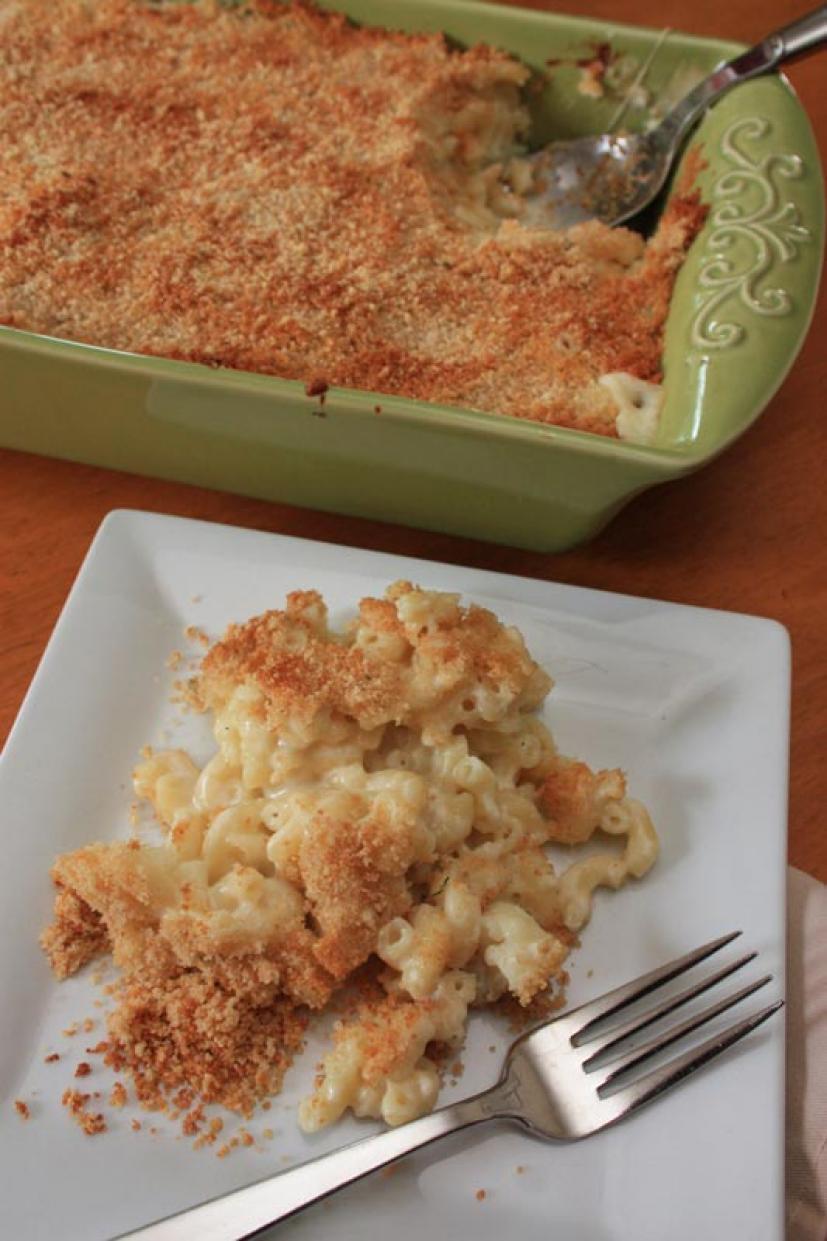 Who doesn't love macaroni and cheese? The stuff in the box pales in comparison to the homemade kind, which has been gracing American dining tables since Thomas Jefferson served it up at a state dinner in 1802. While it's delicious, it's not the healthiest thing you can make, but sometimes we try to make it a little more wholesome by adding fresh veggies, in this case cauliflower, which blends in nicely with the macaroni and white cheddar cheese sauce.
My kids actually like cauliflower, so this isn't one of those "hide the vegetables and hope they don't notice" recipes, although if you wanted to cut the cauliflower up into little pieces it might work that way. You can also use broccoli or whatever other veggie you can think of. I happen to think that the cauliflower goes particularly well with it. Try using orange, green, or purple cauliflower to jazz things up a bit, visually.
Ingredients
1 pound elbow macaroni or other tubular pasta
4 cups cauliflower florets (about half a head)
6 tablespoons unsalted butter
1/4 cup all-purpose flour
3 cups whole milk
1 teaspoon dry mustard (like Coleman's)
1 tablespoon fresh thyme leaves (or 1 teaspoon dried)
1 teaspoon Worcestershire sauce
1 1/2 cups grated sharp white cheddar cheese
1 1/2 cups shredded mozzarella or Monterey jack cheese
1/4 cup grated parmesan cheese
1 cup breadcrumbs
Salt and freshly ground black pepper to taste
Set your oven to 375ºF. Separate cauliflower into small florets. Heat a large pot of water to cook pasta and cauliflower. When water boils, salt liberally and add cauliflower. Blanch for 1 minute and then remove cauliflower with a slotted spoon or skimmer and set aside. Bring water back to a boil and cook macaroni according to package directions.
In a medium saucepan, melt 4 tablespoons butter over medium heat. Add flour and whisk to combine. Cook, stirring constantly, for 5 minutes, then slowly whisk in milk, bit-by-bit, until it's all incorporated. When all the milk has been added, bring to a boil then reduce heat to low and add mustard, Worcestershire sauce, half the thyme leaves, white cheddar cheese, and half the parmesan. Stir until it all melts together and you have a smooth sauce.
Put cooked macaroni and cauliflower in a 9x12-inch casserole dish, then pour in cheese sauce. Add mozzarella or jack cheese and fold together until mixed thoroughly.
In a skillet, melt remaining 2 tablespoons butter, then add breadcrumbs and rest of the thyme leaves. Toast breadcrumbs until lightly browned, then spread them on top of the mac and cheese. Sprinkle with the remaining parmesan.
Bake 15 to 20 minutes or until hot, bubbly, and browned on top.
Sign up for tips & news for Marin families!