Back to top
Transcendence Celebrates the Movies with "Hooray for Hollywood"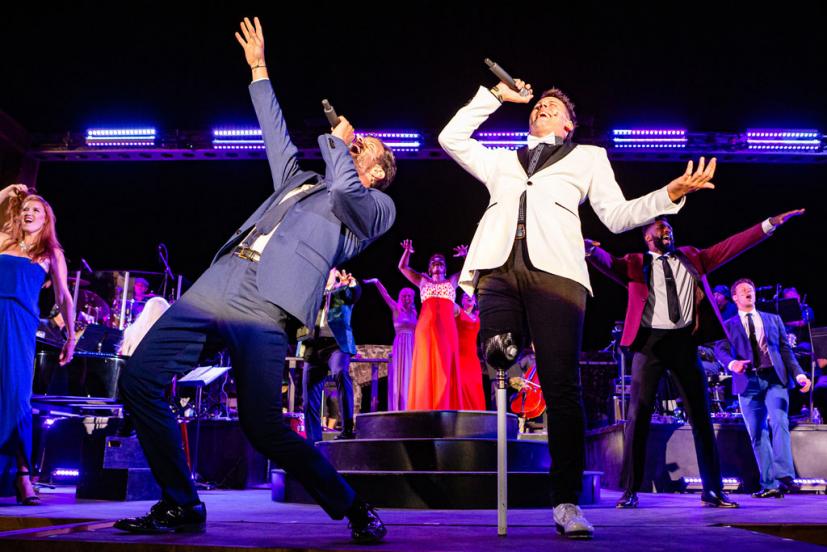 Photo: Transcendence/Ray Mabry
Transcendence Theatre Company continues its 2022 season of Broadway magic in the Wine Country! Their next spectacular show is "Hooray for Hollywood", a celebration of the music that made audiences fall in love with movies. 
14 performers, backed by a full band of brass, strings, and percussion, bring new life to a century of the themes that enchanted America and the world. Relive the magic, from the timeless classics to today's top blockbusters, from The Wizard of Oz to The Greatest Showman, from Mancini themes to the movie music of Prince, Tina Turner, Whitney Houston, and Ritchie Valens. This dazzling retrospective will remind you why we love to sing "Let's all go to the movies!"
"Hooray for Hollywood" runs from July 29 through August 14 on Fridays, Saturdays, and Sundays. Pre-show picnicking begins at 5 pm, and the show starts at 7:30 pm. Feel free to bring your own picnic; food trucks will be on hand, too, and local wineries will be pouring glasses of their finest. 
Ticket prices range from $25 to $165 for individual shows and performances take place in the historic winery ruins at Jack London State Historic Park in Glen Ellen. To order tickets, visit bestnightever.org or call the box office at (877) 424-1414.
Photo: Transcendence/Rebecca Jane Call
About Transcendence Theatre Company
Based in Sonoma County, California, Transcendence Theatre Company is an award-winning, nonprofit arts organization comprised of artists with professional experience from Broadway, film and television. Featured performers have appeared in Broadway productions including Hamilton, The Book of Mormon, Mamma Mia! Les Misérables, Chicago, La Cage Aux Follies, Gypsy, Hairspray, Follies, 42nd Street, White Christmas, Mary Poppins and Wicked. Transcendence Theatre Company specializes in producing high-caliber Broadway concerts in distinctive Sonoma County locations — from its primary home within the majestic open-air ruins of the historic winery in Jack London State Historic Park to other remarkable and stunning settings throughout wine country and the community. www.bestnightever.org
Sign up for tips & news for Marin families!