Back to top
Transcendence's "Hooray for Hollywood" is the Best Night Ever!
Photo: Trancsendence/Rob Martel
Transcendence Theatre Company continues its 2022 season at Jack London State Historic Park in Glen Ellen with "Hooray for Hollywood", a song and dance spectacle that pays tribute to the music that made us love the movies. We've seen quite a few Transcendence shows over the years and while all have been wonderful, "Hooray for Hollywood" might be our favorite one yet — it was truly the best night ever!
We saw "Hooray for Hollywood" on Saturday evening, and it was a non-stop extravaganza of favorite songs from the movies, ranging from The Wizard of Oz and Diamonds Are Forever to The Greatest Showman and Mary Poppins to The Blues Brothers and Footloose alll performed by the amazingly talented Broadway pros that Transcendence is known for. Of course the beautiful venue of the park's 150-year-old winery ruins with Sonoma Mountain in the background just adds to the magical atmosphere.
Photo: Transcendence/Roy Mabry Photography
Honestly, "Hooray for Hollywood" was just one show-stopper after another. With 60 songs peformed in the course of the two-hour show, it's really hard to choose favorites, but some of the standouts that we absolutely loved included "Diamonds Are a Girl's Best Friend" sung by Whitney Claire Kaufman, a soulful "Somewhere Over the Rainbow" sung by Alyson Snyder accompanied by Isaac Carter on acoustic guitar, a medley of "Crocodile Rock" and "The Show Must Go On", "Brave Sir Robin" from Monty Python and the Holy Grail, and "Suite: Judy Blue Eyes" performed by the entire cast with incredible harmonies.
Photo: Transcendence/Roy Mabry Photography
"Hooray for Hollywood" is truly a show that can be enjoyed by the entire family. It's an essential part of the experience to arrive early and enjoy a picnic in the park (gates open at 5 pm). We grabbed some delicious gyros from Dino's Greek food truck (although we often bring our own food), and relaxed and enjoyed our outdoor dinner while listening to some live pre-show music.
The whole experience, from the pre-show picnicking to the performance itself, is just so magical. You really need to experience it this summer! "Hooray for Hollywood" runs on Friday, Saturday, and Sunday evenings through August 14, 2022. Transcendence's next summer show at Jack London Park is the Gala, from September 9–18.
Photo: Transcendence/Rob Martel
If You Go
Jack London State Historic Park is located at 2400 London Ranch Road, Glen Ellen. Read our article about visiting the park. Learn more about the park at www.jacklondonpark.com. Find out more about Transcendence Theatre Company at www.transcendencetheatre.org.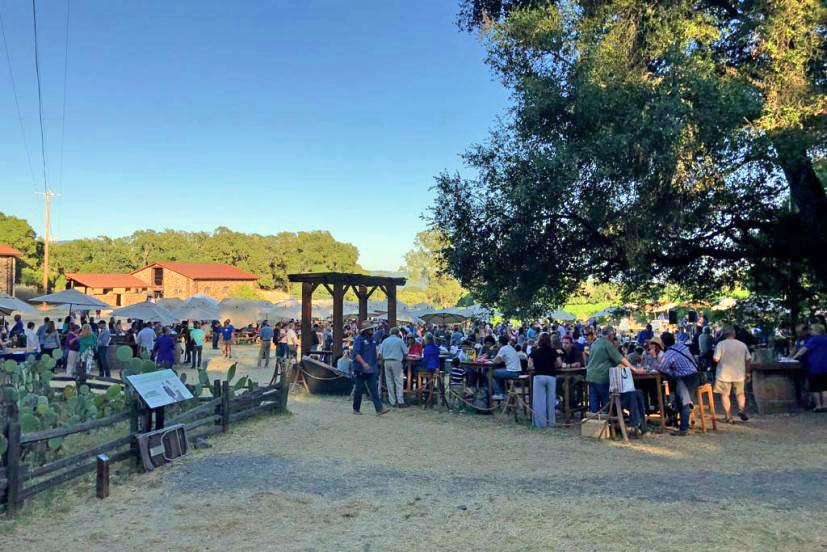 Pre-show picnics begin at 5 pm and the show starts at 7:30. Ticket prices range from $25 to $165. You can bring your own picnic or purchase food from food trucks that will be on hand with a variety of food and drink offerings. You're not allowed to bring your own alcoholic drinks, but local wineries will be pouring at the show.
Order tickets online at www.transcendencetheatre.org or by calling the box office at (877) 424-1414. A portion of every ticket sold for Transcendence Theatre Company shows will benefit Jack London State Historic Park.
Sign up for tips & news for Marin families!