Back to top
Time Travel Back to the Gold Rush at Columbia Diggins 1852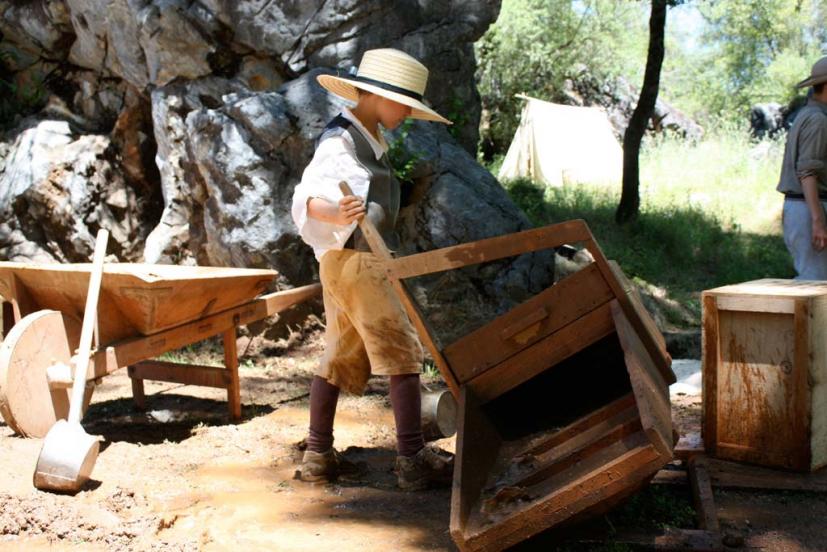 Every May, families have the opportunity to travel back to the days of the California Gold Rush at Columbia State Historic Park's Columbia Diggins 1852, an annual recreation of the tent town from Columbia's 1850s mining camp heyday. The Columbia Diggins tent town is an authentic depiction of a Gold Rush-era tent town, populated by docents and re-enactors in period dress, that allows you to experience the sights, sounds, and smells of an 1850s mining camp.
Enjoy food and drink, gamble, watch a musical performance, bowl, help mine for gold, and more. You even have to exchange your 21st-century currency for period brass "Eagle" coins in order to buy food and other goods in the Diggins. It's a lot of fun, and a must-do event for families with a child in, or going into, fourth grade.
Columbia Diggins 1852 takes place this year from May 19 through 21 from 10 am to 4 pm each day. Admission is affordable at $10 for adults and $2 for children 12 and under. Admission to Columbia State Historic Park itself is free. Columbia is a preserved Gold Country town from the 1850s that offers a unique glimpse into life in the mid-19th century. Think of it a little as California's Colonial Williamsburg (only on a much smaller scale). It's one of our favorite places to visit in California. Learn more at www.parks.ca.gov.
While you're there, make sure to visit the park itself with its museum, businesses, historic 1860s schoolhouse, and stagecoach rides. We love the Jack Douglass Saloon for lunch and house-made sarsaparilla; Nelson's Columbia Candy Kitchen, where you can watch old-fashioned candy being made by hand; and the Columbia Booksellers & Stationers shop for books, posters, and souvenirs.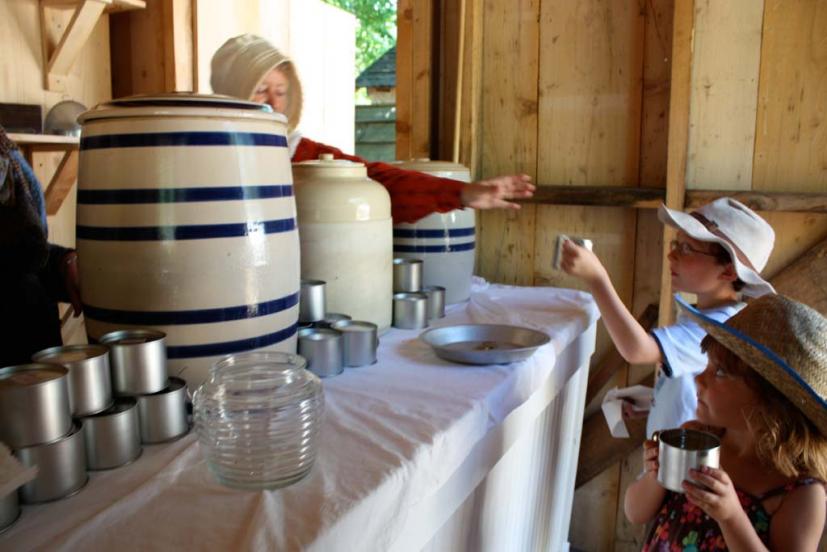 If You Go
Columbia State Historic Park is located in the town of Columbia in Tuolumne County. To get to Columbia, take Highway 101 to 580 in San Rafael and cross the Richmond Bridge. Follow 580 through the East Bay and then hook up with I-5 North and Highway 120 outside of Tracy. Take Highway 120/108 through Oakdale to Highway 49 and Jamestown and Sonora. Follow Highway 49 through Sonora, then turn right on Parrott's Ferry Road; Columbia State Historic Park will be on your right. There's plenty of free parking at the park. The drive to Columbia from the Bay Area takes about three hours.
Families will find plenty of lodging options in the area: Columbia itself boasts two historic 19th-century hotels (reputed to be haunted), and you'll find plenty of motels, campgrounds, and B&Bs in Columba as well as nearby Sonora, Jamestown, and Angels Camp. While you're there, make sure you visit Railtown 1897 State Historic Park for a ride on a real 19th-century steam train.
Sign up for tips & news for Marin families!