Back to top
Easy Mexican Chicken and Rice Soup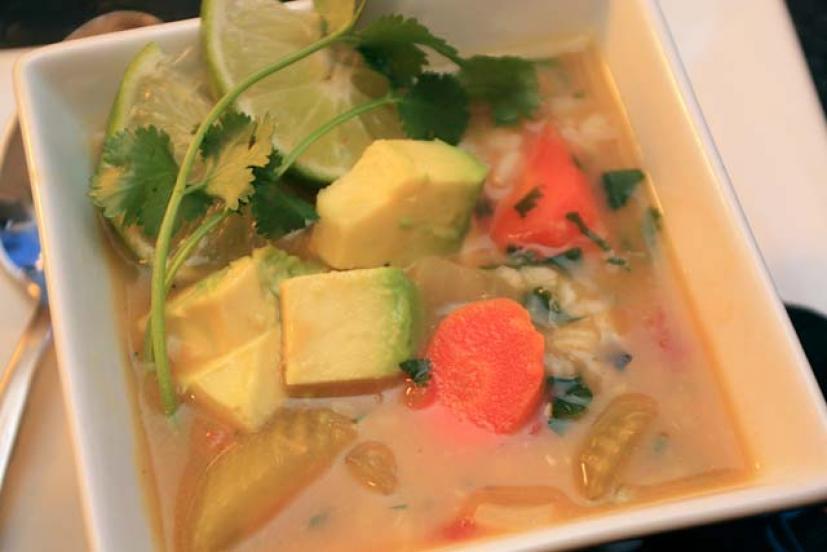 When it's cool and rainy, my family and I love making a warm pot of comforting soup for dinner. The kids love chicken soup in all its forms, so I created this Mexican-inspired version of chicken and rice soup to mix things up a bit.
This definitely isn't your run-of-the-mill bowl of chicken soup—it's simple but delicious and everyone loved it. Filled with chicken, rice, and vegetables, you can also mix in garnishes to personalize your bowl.
While the "right" way to make this is probably to simmer a whole chicken for a long time, this weeknight one-pot-meal is easy and quick to put together with boneless skinless chicken breasts and good quality chicken broth.
Ingredients
1 pound boneless skinless chicken breast or tenders (frozen is OK)
2 quarts low-sodium chicken broth
1 cup long grain white rice
1 large onion, chopped
2 carrots, peeled and cut into 1/2-inch rounds
2 celery stalks, chopped
6 garlic cloves, finely chopped
1 cup (1/2 a 14-ounce can) fire-roasted diced tomatoes
1/4 cup finely chopped cilantro (or to taste)
Salt and freshly ground black pepper to taste
Garnishes
Diced avocado
Lime wedges
Hot sauce
Directions
In a large pot, combine chicken, chicken stock, onion, carrots, celery, and garlic. Bring to a boil, then add rice and stir to combine. Reduce heat to low, and simmer until chicken is cooked and rice nearly cooked, about 20 minutes.
Remove chicken from pot and coarsley chop or shred, then return to pot and add tomatoes and cilantro. Let cook until rice is done, about another 5 or 10 minutes.
Garnish with lime wedges for squeezing, cubes of diced avocado, and hot sauce (like Tapatio) for those who like things a little more spicy. Serve with hot corn or flour tortillas ro crusty bread.
Sign up for tips & news for Marin families!