Back to top
When Life Hands You Meyer Lemons, Make Lemon Bars
Lemon bars have to be one of my all time favorite desserts. I usually reserve lemon bars for special occasions, because they are so sweet and rich. They are great for a special treat, party or a school event.
My mom gave me a huge basket of Meyer lemons from her tree (back before we all had to shelter in place), so naturally I used some of them to make lemon bars. If you're not familiar with Meyer lemons, they're a seasonal citrus fruit that look similar to the regular Eureka lemons that you find in the grocery store, but with a thinner peel; they're sweeter and more aromatic, too. The lemon bars they made are truly fantastic, with an amazing citrus flavor that you simply won't get from grocery store lemons. If you don't have a Meyer lemon tree yourself (or have a friend who does), you can find them Trader Joe's or at one of the local farmers markets—while they're in season.
Here is the recipe I used for lemon bars. Yes, it seems like a lot of sugar, but you have to offset the tartness of the lemons. If you don't have Meyer lemons, that's OK. This recipe is still fantastic with regular lemons, too.
Ingredients
Shortbread crust
1/2 pound (2 sticks) unsalted butter, at room temperature
1/2 cup sugar
2 cups all-purpose flour
1/8 teaspoon kosher salt
Filling
6  eggs, at room temperature
3 cups sugar
1 cup freshly squeezed Meyer lemon juice (about 9 or 10 lemons)
2 tablespoons grated Meyer lemon zest
1 cup all purpose flour
Powdered sugar for dusting
Directions
Preheat your oven to 350ºF.
For the crust, place the butter and sugar in the bowl of an electric mixer fitted with the paddle attachment and cream the until light and fluffy. Combine the flour and salt and, with the mixer on low, add to the butter until just combined. Dump the dough out onto a floured board and gather it up into a ball. Press the dough into a 9 by 13 inch baking sheet with tall edges. Chill for a few minutes in the refrigerator.
Bake the crust for 15 to 20 minutes, until very lightly browned. Let cool on a wire rack. Leave the oven on.
For the filling, whisk together the eggs, sugar, Meyer lemon juice and zest and flour. Pour over the crust and bake for 30 to 35 minutes, until the filling is set.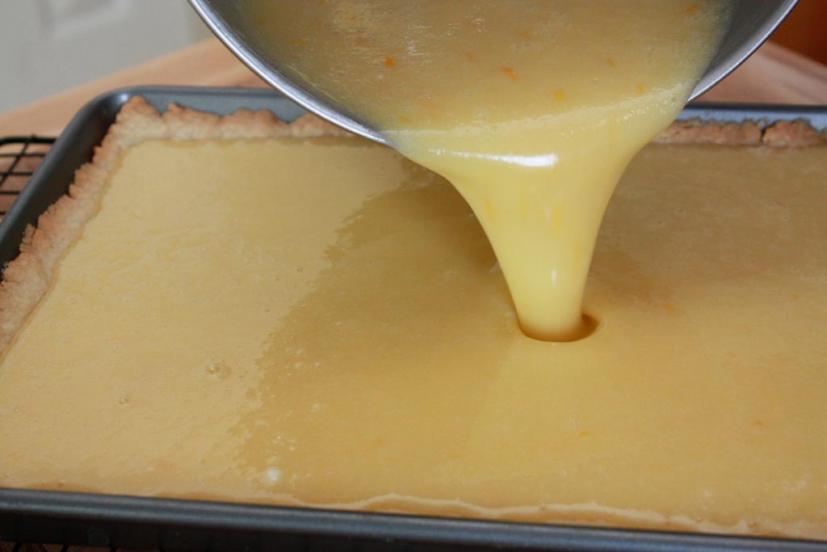 Let cool on wire rack to room temperature, then cut into squares and dust with powdered sugar.
Sign up for tips & news for Marin families!