Back to top
Wonton Party for Chinese New Year
Sunday, January 22, marks the beginning of the celebrations for Chinese New Year: the Year of the Rabbit. It's a tradition in our house to make wontons, as dumplings are traditionally associated with the holiday. Wontons are easy to make, tasty, kid-friendly, and you can get everything you need at your local grocery store. Furthermore, they're something children can help make with minimal effort, and they even have a lot of fun folding the things.
So, pick up a pack of pre-made wonton wrappers and other ingredients and get ready to start your Chinese New Year wonton party! Our recipe is for chicken wontons, although you can use pork, shrimp, or other fillings, depending on what you like or happen to have on hand. Wontons can be prepared in a number of different ways, including steaming, boiling, frying, and can even be served in soup (our favorite).
Ingredients
The wontons
1-1/4 lbs boneless, skinless chicken breasts or thighs, cut into pieces
1 package square wonton wrappers
2–3 green onions, chopped
1/2-inch piece of root ginger, peeled and coarsely chopped
3/4 cup water
1 teaspoon salt
1 teaspoon sugar
1 teaspoon pepper
1 tablespoon sesame oil
1 tablespoon cornstarch
water for cooking and sealing wontons
The soup
4 cups chicken stock (1 aseptic package of broth)
2 cups water
small piece of root ginger
1 clove garlic, peeled and crushed
3 green onions, chopped
4 cups vegetables like coarsley chopped chinese (napa) cabbage or bok choy, snow peas, and shredded carrots
A few drops sesame oil
salt to taste
Directions
First, prepare the filling. Put the scallions, ginger, and water into a food processor and blend until combined. Pour into a container and set aside. Put the chicken, salt, and sugar into the food processor and pulse to grind and mix together. Add the reserved water/scallion/ginger mixture slowly until combined. Put the filling into a bowl and add pepper, sesame oil, and, lastly, the cornstarch. Stir to combine.
Now that your filling is finished, you're ready to start assembling, which is where the children and the party come in. We sat at the kitchen table where each person got a plate, a stack of wonton wrappers, and a little bowl of water.
First. orient your wrapper on the plate so it looks like a diamond. Put a teaspoon of filling (not too much!) in the center, then dip your finger in the water and "paint" two of the edges with water. Fold the wonton over and you'll have a little neat triangular package. You can stop here if you like, or you can take two corners and fold them inward, tortellini style, which looks pretty cool. Repeat until either all the wrappers or filling is gone.
The kids both had fun with this, although my wontons looked a bit more uniform than theirs. But that's all part of the fun. And it all looks the same to your stomach, right?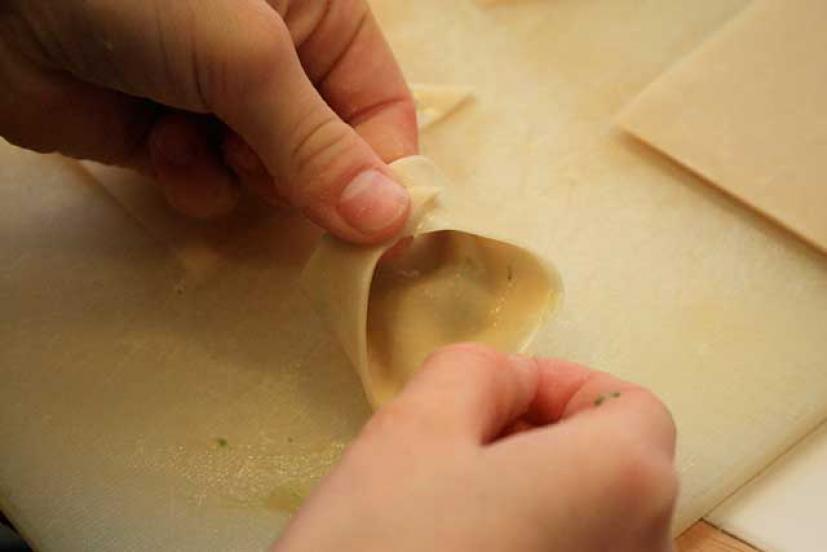 You might find that you now have a ton of wontons. This is OK! They freeze well, and can go right from your freezer to boiling water. Last time w made them we had so many that we decided to fry some up for a treat. Heat some vegetable oil (we used canola) and carefully slide the wontons in; when they float to the top and are golden and crispy they're done. Drain and let cool a few minutes, and then eat with the dipping sauce of your choice. Oh, and do not try to fry the wontons you froze earlier—bad things will happen involving hot splattering oil.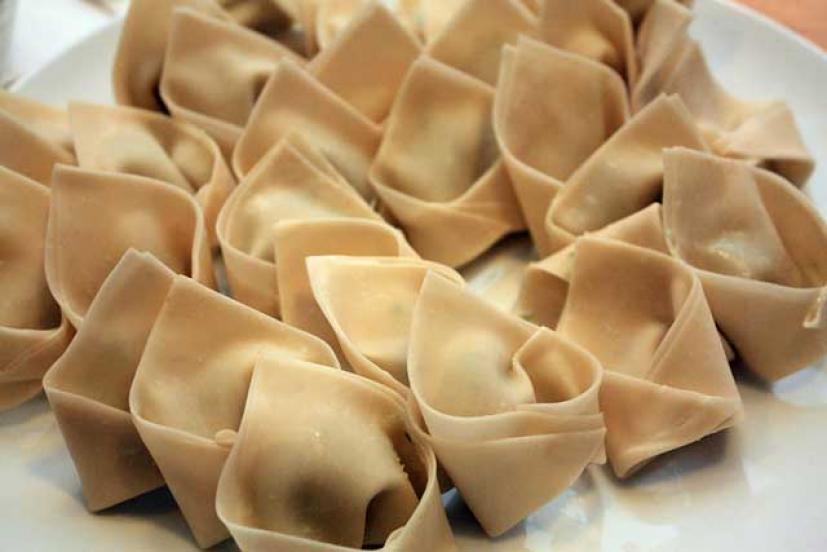 The rest of the wontons were boiled in a large pot of salted water for five minutes or until they floated to the top. We made a simple soup by combining all the listed ingredients except the green onions and sesame oil, bringing them to a boil and then simmering until the cabbage was done. Add green onions and sesame oil, ladle into bowls, and then add a few cooked wontons. Yum!
Make sure you don't just throw the wontons into your soup and boil them in there. They'll turn the soup all cloudy, especially if some wonton filling leaks out, which happens from time to time.
Enjoy your wonton party, and gung hay fat choy!
Sign up for tips & news for Marin families!