Back to top
The Best Oatmeal Chocolate Chip Cookies Ever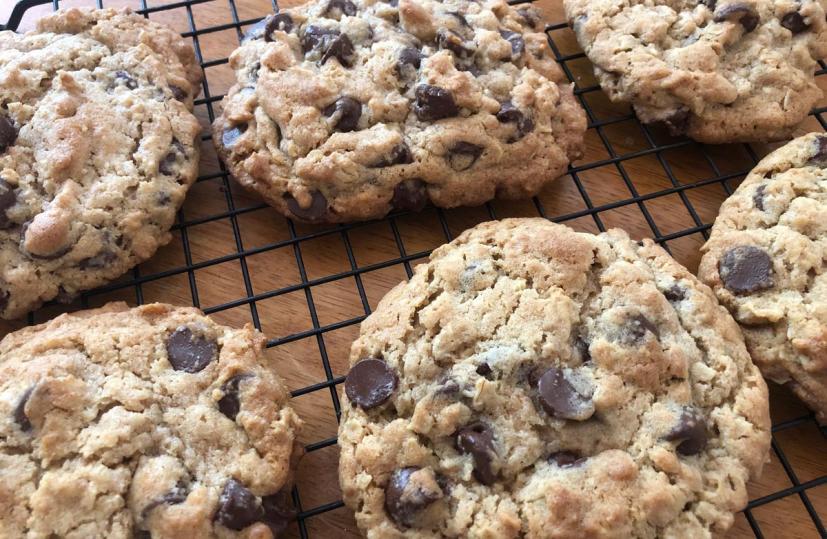 For many years, I've been on a search for the best-ever chocolate chip cookie recipe, and I think I've found it! These oatmeal chocolate chip cookies have crisp edges and chewy centers and taste and look fantastic. The addition of oatmeal gives these cookies a nutty taste, too.
They're based on the recipe published by King Arthur Flour, who in turn got it from the Cookies for Kids' Cancer non-profit. It's King Arthur's 2015 recipe of the year—make a batch and you'll see why.
This recipes makes approximately 20 large cookies if using a 1/4 cup scoop to measure out the dough. You can use a smaller size to get more cookies, but keep in mind that baking times may vary.
Ingredients
2 sticks (1 cup) unsalted butter (at room temperature)
1 cup brown sugar, packed
1/2 cup granulated sugar
1 large egg
1 large egg yolk
1 tablespoon vanilla extract
2 cups all-purpose flour
1 cup oats (either old-fashioned or quick cooking are fine)
1 teaspoon baking powder
1 teaspoon baking soda
1 teaspoon kosher salt
1 16-ounce bag semisweet chocolate chips or chunks
Directions
Preheat your oven to 325ºF and line several cookie sheets with parchment paper.
In a large mixing bowl, cream butter and brown and white sugars until smooth. Add the egg and egg yolk one at a time, followed by the vanilla and beat well to combine thoroughly.
In another bowl, whisk together flour, oats, baking powder, baking soda, and kosher salt. Add the flour and oats mixture to the butter and egg mixture in the pan a bit at a time. Mix until all ingredients are thoroughly incorporated. Scrape down the sides of the bowl and mix again for a moment. Fold in the chocolate chips or chunks.
Using a 1/4-cup disher or measuring cup, scoop the dough onto prepared cookie sheets, with about 2 inches space between cookies. Bake for 12 to 15 minutes or until cookies are golden brown with slightly darker edges. (Our last batch of these cookies was consistently done at 13 minutes.)
Remove from oven and let cool on the cookie sheet for 10 minutes or until cool enough to handle, then transfer to wire racks to cool thoroughly.
Sign up for tips & news for Marin families!