Back to top
Celebrate Fall in Tiburon with Blackie's Hay Day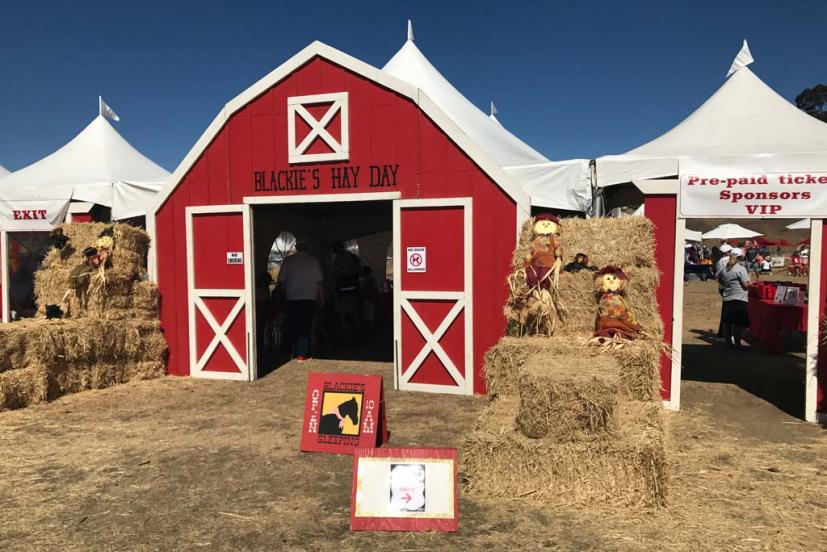 Bring your family to come celebrate fall on Saturday, September 29, 2018 from 10 am to 4 pm at Blackie's Hay Day. This annual fundraiser and community tradition is reminiscent of an old-fashioned country fair and helps raise money for children's and teen programs at the Belvedere-Tiburon Library.
Blackie's Hay Day takes place, naturally, at Blackie's Pasture, which is located off Tiburon Boulevard near Trestle Glen. Blackie's Pasture is named after Blackie, a swaybacked horse who stood in the pasture for nearly 30 years and became a Tiburon mascot, after stints in the rodeo and the US cavalry.
The family fun on Blackie's Hay Day will include pony rides, a petting zoo, Extreme Air Bungee and rock wall, jumpies, a western tot town, and more. The event will also feature live musical entertainment, including the Fur, Scales and Tails Animal Show. Kids can also bake a sweet treat (with or without a grownup's help) and pit their baking skills agains other children their own age at Blackie's Bake Off.
Admission to Blackie's Hay Day is $15 per person, with children under two free. Activitiy tickets are $1 each or an unlimited activity bracelet for $50 per person are available. Advance tickets will be available soon.
Food trucks will be on hand to sell delicious food, and there's a wine and beer tent for the grownups, too. Because Blackie's Hay Day is so popular and parking at Blackie's Pasture is limited, event parking is available on streets around the area, including Greenwood Beach Road and Avenida Miraflores. This year, the Marin County Bicycle Coalition will be providing free valet bike parking, so go green and  pedal your way to Blackie's Pasture!
For more information, visit www.blackieshayday.com.
Blackie's Hay Day is sponsored by Bookmarks, the volunteer group that provides funding for the children's library and teen programs at the Belvedere-Tiburon Public Library. Funds raised by Bookmarks through special events like Blackie's Hay Day are used to fund a wide variety of public programs for children and youth.
Sign up for tips & news for Marin families!