Back to top
Challenge Yourself on a Treetop Adventure in Tahoe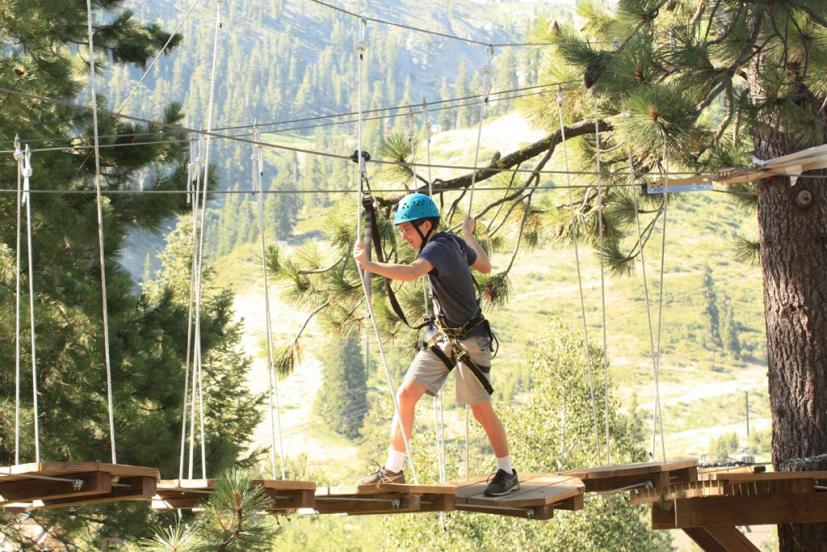 Like many families in Marin it's a tradition for us to visit Lake Tahoe for an active summer vacation. With things opening up in California now, it's time to make your summer plans! One of the activities that my kids always love to do when we're in the Tahoe area is challenge themselves and have a blast at the aerial adventure courses operated by Tahoe Treetop Adventures. 
We've had the opportunity to try out all three of the locations that they run: the adventure parks at Granlibakken and North Tahoe Regional Park in Tahoe Vista, and the smaller ropes course in Olympic Valley near Palisades Tahoe resort. Each offers its own unique setting and set of challenges. For us, it's a must-do interactive activity on a Tahoe getaway!
What are these ropes courses, exactly? Each is a series of treetop platforms, usually from around 7 to 10, connected by rope bridges and zip lines. Each is mounted from 10 to 50 feet above the ground, and each offers a different kind of challenge. Courses are rated like ski runs, from green circle (easiest) to double black-diamond (most difficult).
Courses are augmented by other challenging activities like climbing walls and the "leap of faith". Participants can work their way through the courses in order of difficulty, or, if you're like my daredevil daughter, head straight to the black-diamond platforms. When you're done with a course, you ride a zip line back down to the ground.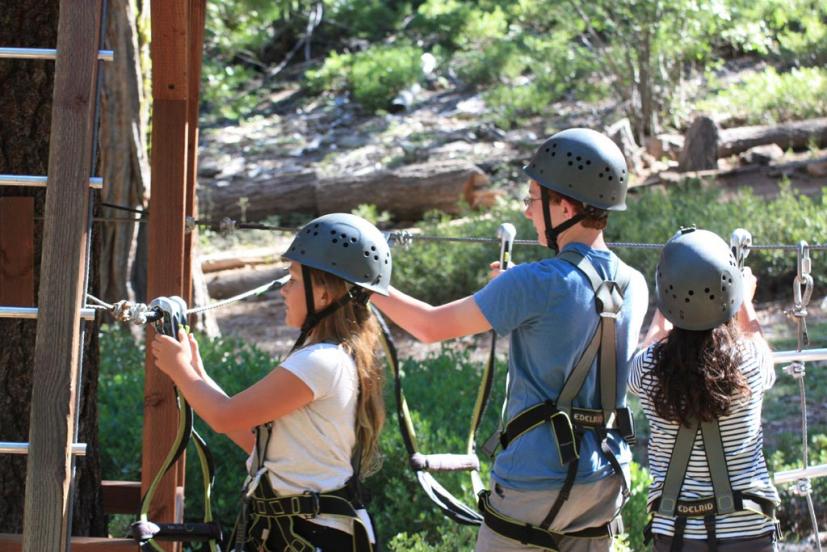 Needless to say, there's a real focus here on safety. Helmets and harnesses are mandatory, and all participants take part in a "ground school" course on the ins-and-outs of safely navigating the courses before they take to the ropes. The staff my kids have worked with at all locations have been nothing less than fantastic, friendly and helpful. They really make sure that participants have a great time and challenge themselves in appropriate ways.
Once, when my daughter was tackling a double black-diamond run, she decided she was stuck and needed someone to come up and help her down. It was making me nervous, but the staff member watching her told me to just let her work through the obstacle; if she really couldn't do it he would climb up and bring her down. Of course she got through it just fine, and was extremely proud of herself for figuring it out on her own!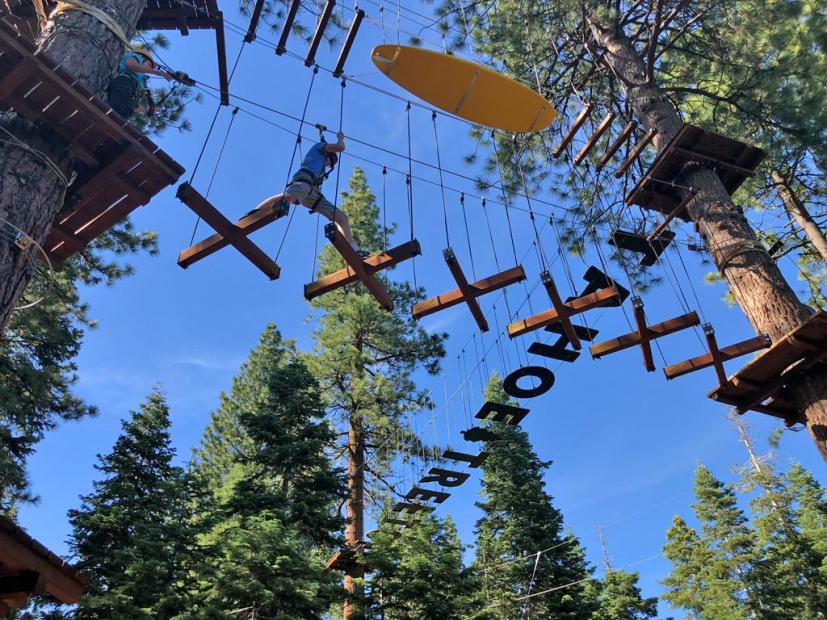 Participants can be 6 years old and up, and of course grownups are welcome to tackle the aerial courses, too. (You're welcome to stay on the ground and watch, too — it's up to you.) Younger kids have a limited number of runs they're allowed to access, while those above 49 inches can usually access all the courses. Expect a session to run about 2 to 2.5 hours.
Of the three parks, our favorite is the one at Granlibakken Resort in Tahoe City, due to its challenging combination of courses and lovely setting in the woods. The Tahoe Vista park is similar, with slightly fewer courses. The one at Olympic Valley is the smallest of the three, and a little less expensive than the other two. We highly recommend any of the three, as the kids had a great time at each one.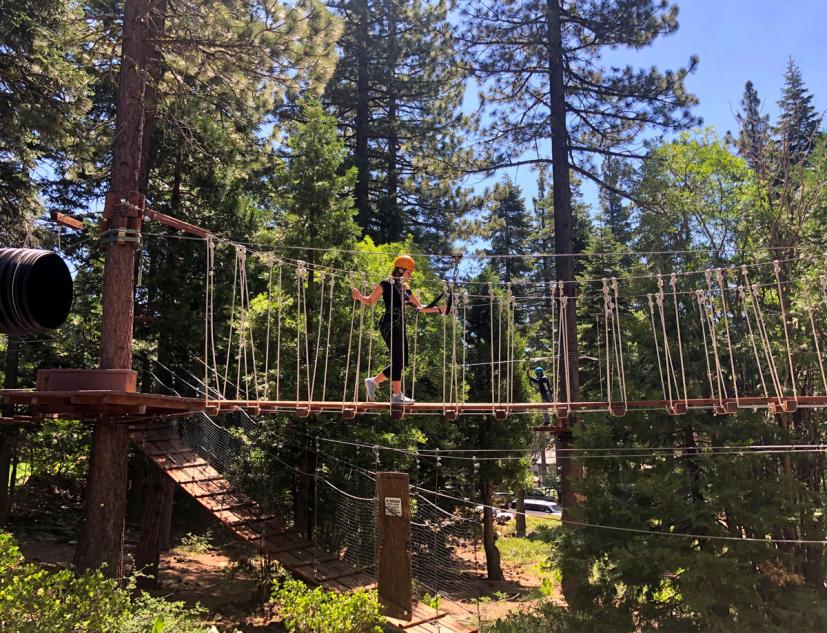 If You Go
The Tahoe Treetop Adventure Parks are open year round and operate rain or shine. Hours vary depending on the time of year. Sessions must be booked in advance and often sell out, especially during the summer. Adventure park sessions cost $59 for children 12 and under and $73 for adults; the cost for the smaller Olympic Valley ropes course is $45 for kids and $55 for adults.
Children ages 5 and up can participate, as well as adults. There's a 260-pound weight limit on all courses, too. Safety equipment, including full-body harnesses and helmets, are provided, but you're allowed to use your own helmets; bike and climbing helmets are ideal.
Participants must wear closed-toed shoes, and wear layers that can be unzipped and removed (you will get hot and sweaty while navigating the ropes courses). Make sure you pack plenty of water, too!
For more information and to make reservations, visit tahoetreetop.com or call (530) 581-7563.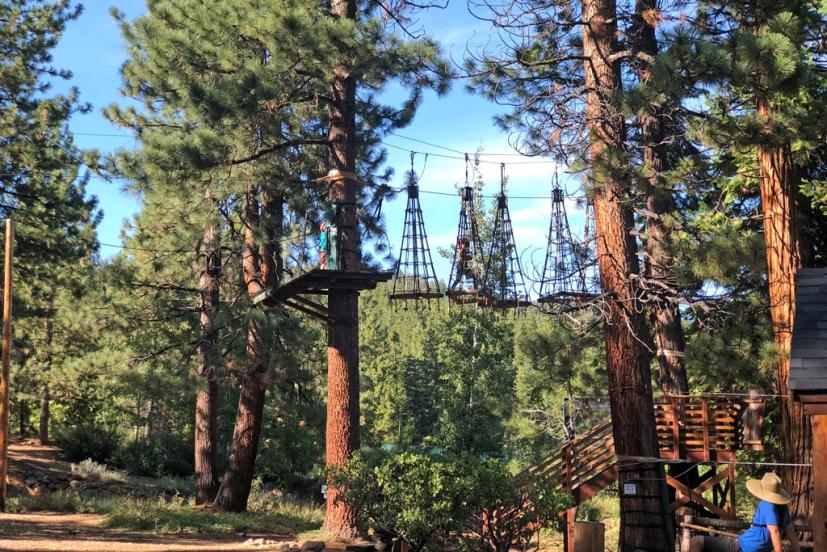 Sign up for tips & news for Marin families!