Back to top
Chocolate Chip Skillet Cookie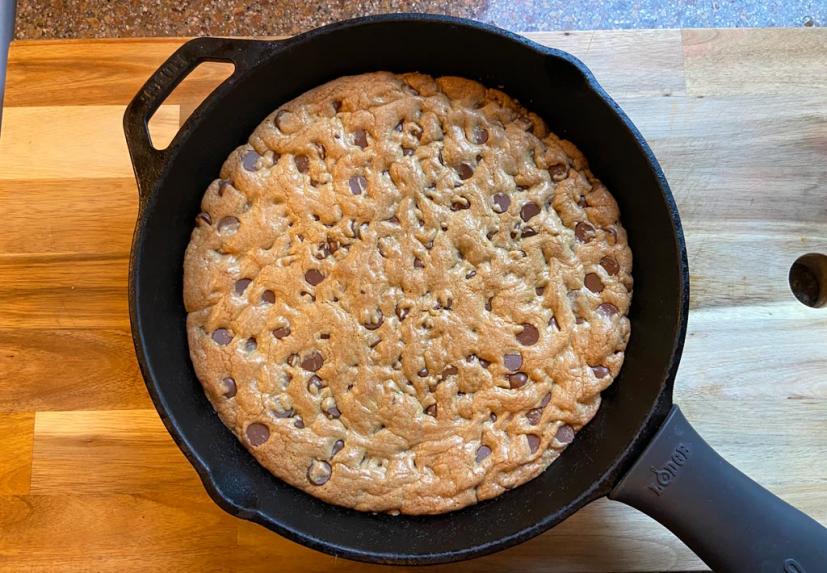 If you crave chocolate chip cookies but making a batch is too much mess and effort, try making this giant cookie in your cast iron skillet instead. No mixer or baking sheets needed!
It's best eaten hot and gooey right out of the oven, maybe with some really good vanilla ice cream on top. The kids are always impressed at the spectacle of the giant cookie as it comes out of the oven! If the kids want to help out they can measure and stir the ingredients together but make sure they steer clear of the baking part — the pan will be extremely hot when it comes out of the oven.
If you don't have a cast iron skillet, go get one! We use a Lodge 10-inch skillet for this recipe, which you can get for $20 or less on Amazon, at Target, or even at your local hardware store. It's a great cookware investment and you'll find yourself using it for everything!
Ingredients
6 tablespoons unsalted butter, softened
1/2 cup granulated sugar
1/3 cup dark brown sugar, packed
1 teaspoon vanilla extract
1 large egg
1 cup all-purpose flour
1 teaspoon baking soda
1/2 teaspoon kosher salt
1 1/4 cup chocolate chips
Directions
Preheat your oven to 350°F. In a large bowl, stir together sugars and butter with a wooden spoon until combined. Add egg and vanilla and stir in, then stir in flour, baking soda, and kosher salt. Finally, stir in the chocolate chips.
Spread the dough into a 10-inch cast iron skillet. No need to grease it or anything. Bake for 18 to 20 minutes or until cookie top is golden brown; the middle should be just set. Remove from oven and let cool for about 5 minutes, then cut into wedges and serve. Or just eat it right out of the pan—we won't judge.
Sign up for tips & news for Marin families!