Back to top
Easy Individual Chicken Pot Pies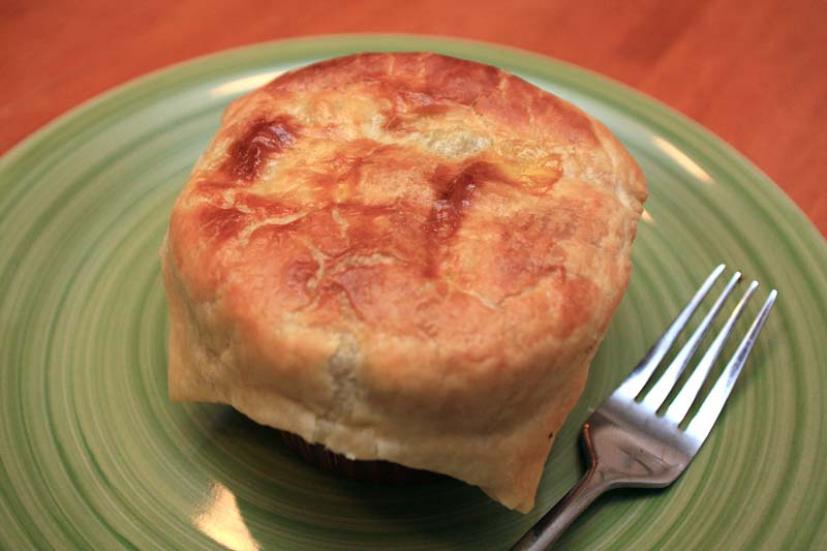 Use up leftover rotisserie chicken in these quick, easy, and delicious individual pot pies. The kids love getting their own little pies, and they really like both helping make them, too! Topping each pie with a square of frozen puff pastry dough makes this really easy to make any night of the week.
If you don't have any leftover chicken you can just cook up a couple boneless skinless chicken breasts for an equally tasty dish. Full of vegetables, they're meals in themselves.
Feel free to adapt this recipe to whatever you happen to have on hand—other vegetables you can use include broccoli, cauliflower, and sliced mushrooms, and you can use any kind of leftover meat (it's a great use for Thanksgiving turkey), or none at all for a vegetarian version (substitute veggie broth for the chicken broth). Dried herbs may be used instead of fresh—use half the amount indicated in the recipe.
If you don't have ramekins, you can make one large pot pie in a casserole dish and place the puff pastry dough over the top; cooking time may vary from that indicated.
Ingredients
2 cups cooked chicken, diced
4 tablespoons butter
1 medium yellow onion, diced
1 clove garlic, finely chopped
2 medium carrots, diced
2 Yukon gold or red potatoes, peeled and diced
1 large stalk celery, diced
1 cup green beans, fresh or frozen, cut into 1-inch pieces
1/2 cup frozen peas
1 teaspoon finely chopped fresh rosemary
1 teaspoon finely chopped fresh sage
1 teaspoon fresh thyme leaves
1/4 cup all-purpose flour
2 cups low sodium chicken broth
Salt and fresh ground pepper to taste
1 sheet (half a package) puff pastry dough, thawed
1 egg plus a few teaspoons water (optional)
Preheat your oven to 400ºF. Heat butter in a heavy frying pan over medium-high heat. When hot, add onions, carrot, and celery. Reduce heat to medium and sauté vegetables until soft, about 10 minutes. Add herbs and potatoes and cook for another minute, then sprinkle in flour and stir to combine with vegetables. Cook for another 2 minutes.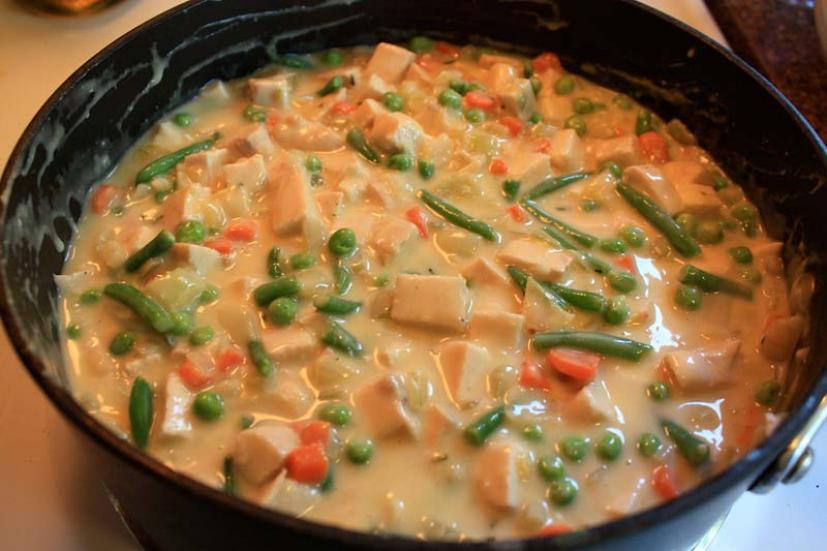 Slowly pour in chicken broth and stir until smooth, making sure that flour is incorporated. Bring to a boil—mixture will start to thicken. Add green beans and peas, and season to taste with salt and pepper. Reduce heat to low and let cook until vegetables are tender. Stir in chicken and cook until just heated through.
Ladle mixture into individual ovenproof ramekins, taking care to not overfill.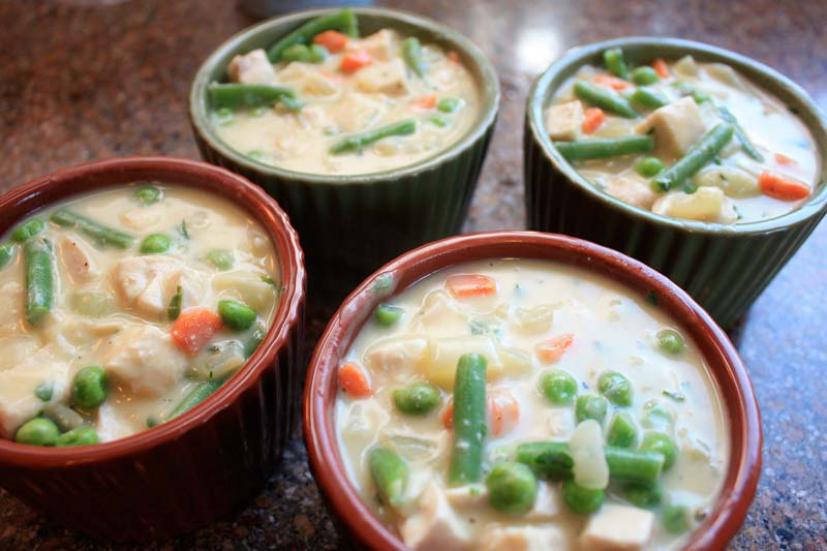 Cut puff pastry dough into four equal squares. Place dough square on top of each ramekin. Poke a few holes with a fork to vent. In a small bowl, lightly beat the egg with some water to make an egg wash. Lightly brush the top of each pot pie with the egg wash.
Put pot pies on a baking sheet and place in the oven. Bake for 12–15 minutes or until tops are golden brown. Let the pies cool for at least 10 minutes before serving, especially if you're serving them to your kids—the filling can get really hot. Makes 4 pot pies, depending on the size of your ramekins.
Sign up for tips & news for Marin families!