Back to top
Longevity Noodles for Chinese New Year
Celebrations for the Year of the Rabbit are underway, so we decided to make some of the traditional foods associated with Chinese New Year. Foods that are made and eaten during the New Year celebration often have symbolic meanings meant to invoke prosperity and good fortune. In this case, the name "longevity noodles" is self-explanatory: the long noodles symbolize a long and happy life. Don't break them up when you're cooking, and try to eat them all in one piece!
This recipe is our adaptation of the traditional dish. We included a variety of kid-friendly Asian veggies like snow peas, napa cabbage, and bean sprouts, and left out the black mushrooms at the request of my daughter, who helped shop for the ingredients. Feel free to vary the ingredients depending on your family's preferences. Our kids both asked for seconds (and ate the vegetables and chicken, not just the noodles).
Also, it helps to prepare, measure out, and set aside all the ingredients in advance. The dish comes together quickly, and having everything ready and at hand makes a big difference.
Ingredients
12 ounces dried Chinese wheat noodles
1 lb boneless skinless chicken thighs, cut into bite-size pieces
3 cloves garlic, minced
2 slices root ginger, minced
3 tablespoons peanut or vegetable oil
3 tablespoons light soy sauce
2 tablespoons Shaoxing rice wine or dry sherry
1/4 cup chicken broth and 2 tsp cornstarch, mixed into a slurry
1 tsp chili sauce (optional)
1 tsp sugar
1 tsp toasted sesame oil
4 green onions, cut into chunks
2 cups napa cabbage, chopped
1 cup snow peas, trimmed
1 cup bean sprouts
Directions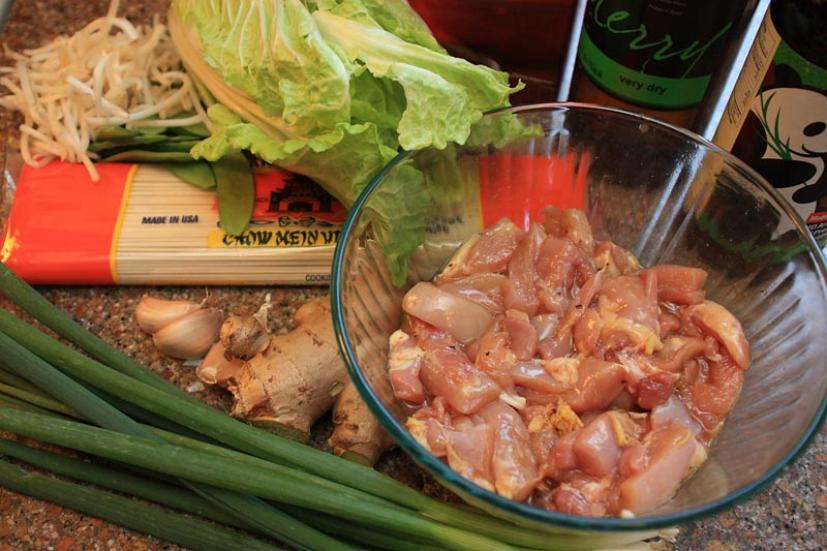 Combine chicken with 1 tablespoon soy sauce, 1 tablespoon wine, 1 clove of garlic, and half the ginger. Set aside and let marinate.
Cook noodles according to package directions, rinse thoroughly in cold water so they don't stick, and set aside.
Heat oil in a wok or large skillet over medium high heat. Add remaining garlic and ginger and cook for a minute, then add chicken. Stir fry chicken until almost cooked, about 5 minutes.
Add remaining soy sauce, wine, sugar, and chili sauce, if using. Toss with chicken to combine thoroughly. Add cabbage and snow peas and cook for another minute or so, then add cornstarch slurry to pan along with noodles. Stir to combine all ingredients and heat noodles through.
Add green onions and bean sprouts, toss together again to mix, and then remove from heat and serve.
Sign up for tips & news for Marin families!