Back to top
Make Some Valentine's Day Sugar Cookies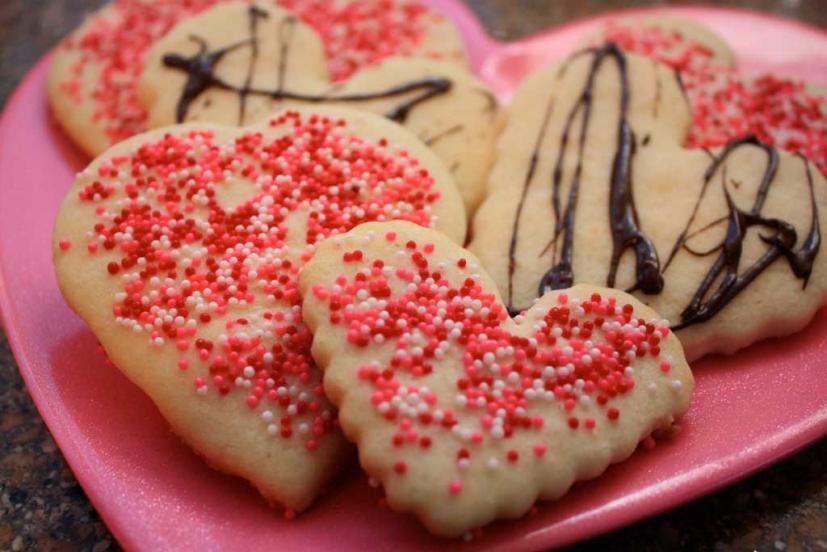 My kids love to make these basic sugar cookies and decorate them for Valentine's Day. They are easy to make and are a fun project for a rainy day. Decorate your cookies with pink and red Valentine's sprinkles or, better yet, an artistically applied drizzle of rich dark chocolate. They look festive and taste good too.
Give as a gift wrapped in cellophane bags tied with raffia or ribbon or in a heart-shaped box. Who wouldn't be happy to get these delicious and pretty sweet treats on Valentines Day?
Ingredients
4 cups all-purpose flour (you'll need a little more for dusting your work surface, too)
1 teaspoon baking powder
½ teaspoon kosher salt
1 cup unsalted butter, softened
2 cups sugar
2 eggs
2 teaspoons lemon juice and grated zest of 1 lemon or a teaspoon vanilla extract
Directions
Note: Kids can measure and mix ingredients and stir them together, as well as cut out shapes and decorate the cookies.
Sift together flour, salt and baking powder in a large bowl.
In another bowl, cream together butter and sugar, then beat in the eggs. Add wet ingredients to the dry ones in the large bowl along with the lemon juice and zest and mix together on low speed until they're combined.
At this point you can wrap the dough in some plastic wrap and refrigerate for about an hour. This makes the dough easier to roll and shape.
Preheat the oven to 325ºF. Roll the dough out on a floured surface until 1/8 inch thick, then cut into shapes and bake on a baking sheet lined with parchment paper for 8–10 minutes or until they start to turn a little brown on the edges.
Cool on a wire rack, and then decorate. We melted Guittard dark chocolate chips in the microwave and then drizzled the melted chocolate over the cookies with a fork. The results were terrific!
Sign up for tips & news for Marin families!