Back to top
Mediterranean Grilled Chicken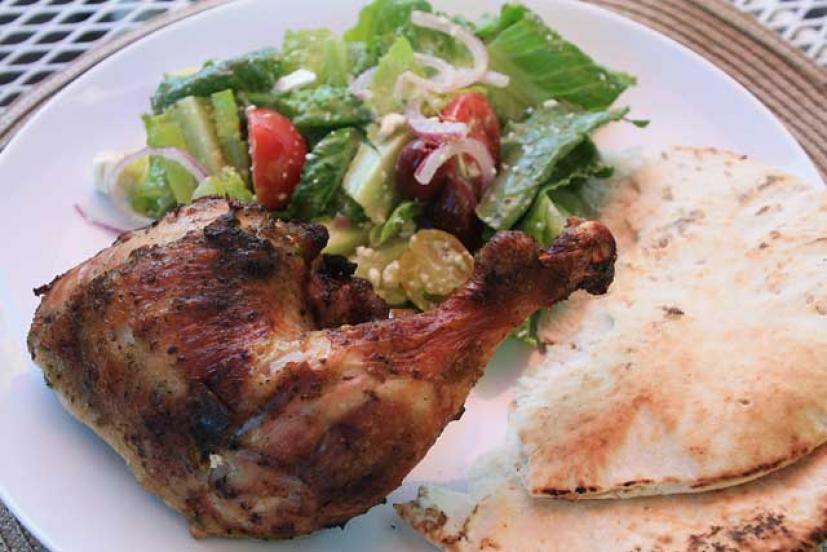 Summer means it's time to fire up the grill and cook something delicious for dinner. One of the hardest things to cook on the grill is whole chicken. It's too easy to end up with a birds that's charred on the outside and underdone on the inside, but I think this technique is almost foolproof and results in a perfectly cooked chicken every time. It also speeds up the cooking time.
I like to marinate the chicken for a few hours—or overnight, if I'm thinking ahead—in a citrusy, herb-laded mixture that's full of great Mediterranean flavors. I can't say that it's purely Greek or Italian, but it uses flavors common in each cuisine. It helps to have an herb garden just steps from the kitchen door, too!
Feel free to vary this recipe to suit your taste. For example, I sometimes replace the oregano with fresh chopped rosemary for something equally delicious. Whatever variation I decide on, this is one of my go-to dishes for a summer cookout.
In addition to your standard grilling tools, you'll need a heavy weight to press down on the chicken while it's cooking. A cast iron skillet or even a brick wrapped in aluminum foil works great.
Ingredients
for the marinade
3 or 4 sprigs fresh oregano leaves
2 sprigs fresh thyme leave
4 cloves garlic, crushed
Juice of 2 lemons
1/4 cup extra virgin olive oil
Freshly ground black pepper
for the chicken
1 whole broiler chicken, flattened (see directions below)
Kosher salt
Directions
To make the marinade, combine herbs, garlic, and lemon juice in a food processor or blender and blend into a coarse puree. Pure marinade into a large bowl, then whisk in olive oil and season with pepper to taste
To flatten out or spatchcock the chicken, cut out the backbone with a heavy knife or a pair of poultry shears. Turn the chicken over and, with the heel of your hand, press down on the breast to flatten.
Place chicken in the bowl with the marinade, and turn to coat evenly. Loosen the skin over the breast and legs and work some of the marinade in between the skin and meat. Cover and refrigerate for at least an hour or overnight. Remove from the refrigerator at least 30 minutes before cooking.
Light a fire in your charcoal grill or preheat a gas grill to medium high. Remove chicken from marinade and shake off excess into the bowl. Season chicken on both sides with kosher salt. Place chicken skin side up on the grill and let sear for about 5 minutes, then turn skin side down and place your weight on top. When building a charcoal fire in the grill, I often pour all the coals to one side of the grill to create a hot zone and a cool zone. For this step I move the chicken away from the hotter area to avoid burning the skin.
Cover and cook for 20 minutes. Flip chicken and cook for another 5–10 minutes or until done (165ºF in the thickest part of the breast).
Remove from grill and tent loosely with foil for at least 15 minutes. Cut into pieces and serve. I served this with a big Greek salad and pita bread that I crisped on the grill after cooking the chicken.