Back to top
New Orleans-Style Red Beans and Rice
A favorite dish in New Orleans Creole cuisine, red beans and rice doesn't take a lot of effort to make and everyone loves it. It's traditionally served on Mondays, and consists of red beans slowly simmered with vegetables and smoked meats like sausage and ham and served over rice. I like to make this on a Saturday or Sunday afternoon so we have plenty of leftovers for weekday meals.
While the traditional dish calls for a ham hock, I used a smoked Diestel Ranch turkey leg instead. I sometimes use the Trader Joe's chicken Andouille sausage for a lighter dish, too. Andouille sausage can be a bit spicy, but you can use pretty much any kind of smoked sausage you like.
Ingredients
1 lb dried kidney beans or other red beans, soaked overnight and drained
1 lb Andouille or other cooked smoked sausage, sliced
1 tbs vegetable oil
1 smoked turkey leg or ham hock
1 large yellow onion, finely chopped
1 large green pepper, finely chopped
4 stalks celery, finely chopped
4 cloves garlic, minced
4 sprigs fresh thyme
2 bay leaves
1/2 tsp cayenne pepper or to taste
Freshly ground black pepper
Kosher salt
Apple cider vinegar to taste (optional)
Hot sauce like Crystal or Tabasco to taste (optional)
Steamed white or brown rice to serve
Directions
Heat oil a large Dutch oven or heavy pot over medium-high heat. Brown sausage until slightly crisp, then add onion, garlic, celery, and bell pepper and cook until vegetables are soft, around 8 to 10 minutes.
Add beans, smoked turkey or ham hock, thyme, cayenne pepper, bay leaves, a few grinds of black pepper, and 1 tsp kosher salt. Add enough water to cover (6 to 8 cups, probably), bring to a boil, then reduce heat and simmer until beans are tender, about 1-1/2 to 2-1/2 hours.
When beans are cooked, discard bay leaves and thyme stems. Remove turkey leg or ham hock, shred meat, and return it to the pot. Season to taste with salt and pepper and a teaspoon or two of apple cider vinegar and a few dashes of hot sauce, if using.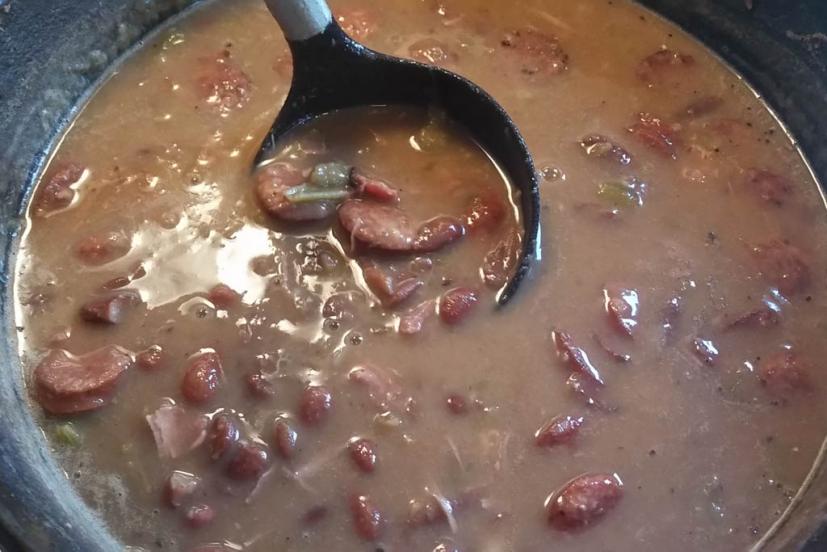 Serve in bowls over hot steamed rice with more hot sauce on the side for those who like things spicy.
Sign up for tips & news for Marin families!