Back to top
Santa Maria-Style Tri Tip Is a California Barbeque Classic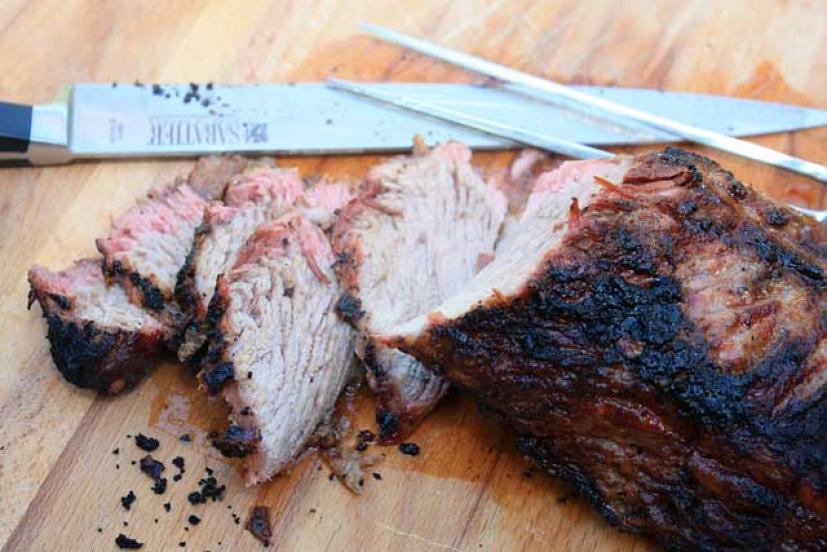 On Memorial Day Weekend, or on any special occasion that warrants a backyard barbeque, one of our go-to dishes is grilled tri tip, cooked in the style of Santa Maria on California's central coast. There, this triangular cut of beef is simply seasoned and cooked slowly over an oak-wood fire, in the traditional manner of the old California ranchos.
It's easy to make a pretty authentic version on your grill, and it doesn't need a lot of attention, so you can mingle with your guests and not spend all your time in the kitchen or tending the barbeque. My kids absolutely love this, and never seem to get enough when we make it. We always say that the leftovers make for great sandwiches, but truthfully we have no idea if they do because we never have any leftovers!
This recipe feeds 4–6; double or triple the recipe to feed more guests. (In Santa Maria, they say it isn't authentic unless you're cooking for at least 100 people!)
Ingredients
A 3–4 pound tri tip, preferably untrimmed
Kosher salt
Garlic powder
Freshly ground black pepper
Hardwood smoking chips
Directions
You'll find hardwood smoking chips at most well stocked grocery stores. Oak is traditional, but apple or mesquite will do just fine for our version. Soak a cup or two of wood chips  in a bowl of water for at least 30 minutes. You can do this while you're waiting for your charcoal fire to get ready.
When your charcoal is hot, arrange the coals to create a two-zone fire—pile them all up on one side of the grill while leaving the other charcoal-free. This will create two areas of heat, one direct and one indirect. You can make this in a gas grill, too, especially if it has a tray in which to put your smoking chips.
Ideally you'll have an untrimmed tri-tip with the fat cap still on. Some people have the tendency to trim this off, but resist the temptation! It keeps the beef moist and juicy while it's cooking. You can always trim it off after it's cooked.
Rub the meat all over with plenty of kosher salt, garlic powder, and pepper. You can also use commercial garlic salt if you happen to have it on hand.
Sear the tri tip on the hot part of the fire for a few minutes on each side (about 5 minutes total) to get a nice crust. When you're done, move the meat to the cooler indirect side of the grill, scatter a handful of the soaked wood chips over the hot coals, and cover with the lid. After 20 minutes, flip the meat. You'll want to cook it for a total of 20 minutes per pound, or until its internal temperature registers 135º for medium rare.
Let the meat rest, loosely covered with aluminum foil, for at least 10 minutes, then slice thinly across the grain.
Traditionally, Santa Maria tri tip is served with pinquito (or pink) beans, a green salad, French bread, and fresh salsa. All these things are easy to make ahead, so why mess with tradition? We like to roast the peppers and tomatoes for the salsa over the hot charcoal fire while we're searing our tri tip—it really adds something to the finished product.