Back to top
Slow Cooker Chili for a Cool Evening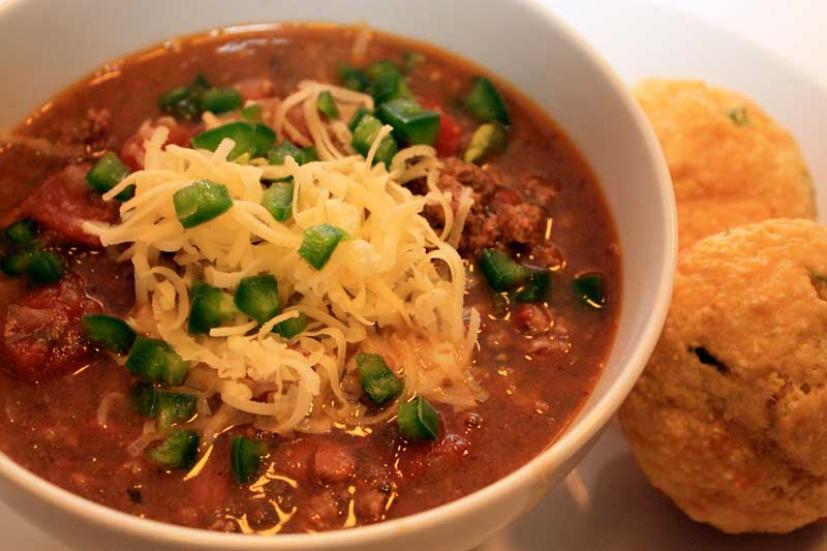 Fall is the perfect time to fire up the slow cooker and make some long-simmered comfort food. Chili is a perfect food for a cool fall evening. Everyone in our family likes it, and you can offer a variety of different condiments so everyone can customize their bowl to their own liking.
Here, I've adapted my go-to chili recipe for the slow cooker. Put all the ingredients in the cooker in the morning and let it go and it will be hot and ready in time for dinner. You can also chop up the vegetables for the recipe—onions, garlic, and green peppers—in the food processor, saving a little more work in the process.
If you like your chili spicy, feel free to add some cayenne pepper (1 teaspoon or to taste) or chopped jalapeños. Since we always have to feed both grownups and kids, so I tend to make it mild. Besides, you can always add your own heat after the fact, but it's impossible to take it out once you've put it in!

Ingredients
2 pounds lean ground beef or ground turkey
2 medium yellow onions
2 green bell peppers
4 cloves garlic
2 tablespoons olive oil (optional, see instructions below)
1 small can fire-roasted chopped green chilies
Half a bottle of beer (about 1 cup, optional)
4 cups beef or chicken broth
1 16-ounce can diced fire-roasted tomatoes (like Muir Glen)
4 tablespoons mild California or Pasilla chili powder (or a mix of both)
1 tablespoon smoked paprika
1 tablespoon dried Mexican oregano
1 teaspoon freshly ground black pepper
2 bay leaves
2 whole cloves
1 teaspoon ground allspice
1 teaspoon dried thyme
1 tablespoon Worcestershire sauce
3 16-ounce cans pinto beans, rinsed and drained
4 tablespoons masa harina (optional)
Kosher salt to taste
Directions
Cut bell peppers, onions, and garlic into large chunks, then throw them in the food processor and pulse until everything is finely chopped.
Now you can toss everything into the slow cooker or let it cook, or you can sauté the vegetables and ground beef to cook off excess moisture and add some depth of flavor.
If you're going the latter route, heat the oil in a large sauté pan and then add the vegetables. Cook until soft and lightly browned, about 10 minutes.
Transfer vegetables to your slow cooker and return pan to the stove. Add beef and cook until browned, then add to the cooker.
Add all the other ingredients except for the masa and stir to combine. I always put some beer in my chili—it's a traditional ingredient—but if you don't want to use it substitute another 1 cup of broth.
Cook on low for 6–8 hours or high for 4–5 hours.
Before the last hour of cooking remove the lid and turn the slow cooker up to high. Dissolve the masa (if using) in some broth or water and stir into the chili, along with the beans. Leave the lid off to finish cooking. You can also add a little more beef broth if the chili is too thick.
We like to serve chili in large mugs and offer condiments like chopped white onions, jalapeños, cilantro, sour cream, grated cheddar cheese, and hot sauce.
Great accompaniments include cornmeal muffins or squares of cornbread or slices of crusty sourdough bread.
Sign up for tips & news for Marin families!