Back to top
Valentine's Day M&M Cookies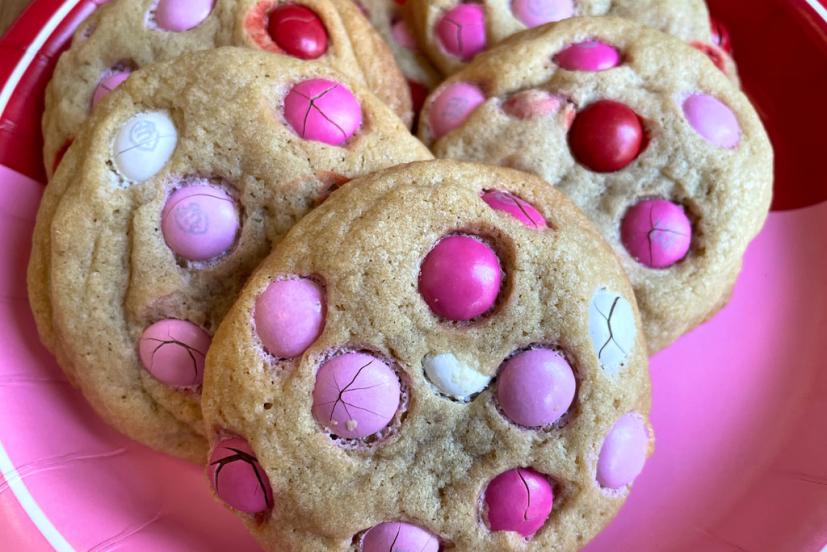 I love the different seasonal colors of M&Ms that come out at different times of year, especially because I can make colorful (and delicious) cookies for a special treat. This time, I used the pink, white, and red M&M candies for Valentine's Day. My go-to recipe here can be adapted for any festive occasion.
Ingredients
1 cup brown sugar, firmly packed
½ cup granulated white sugar
2 sticks unsalted butter, at room temperature
2 large eggs
1 ½ teaspoons vanilla extract
2 ½ cups all-purpose flour
1 teaspoon baking soda
1 teaspoon salt
1 ½ cups Valentine's Day (or any other color) M&M's
Directions
Preheat your oven to 350°F. Line 2 baking sheets with parchment paper.
In a large bowl (or the bowl of your stand mixer), cream sugar and butter, then add eggs and vanilla until thoroughly combined. In another bowl, whisk together flour, salt, and baking soda. Add dry ingredients to wet a bit at a time until everything is combined. Fold in 3/4 cup of M&Ms.
Drop heaping tablespoons of dough onto prepared baking sheets. Flatten dough balls slightly and push a few more M&Ms on top of each.
Bake for 9 to 11 minutes or until cookies are golden brown around the edges. Let cool slightly on the pan and then transfer to a wire cooling rack to finish cooling.
We get commissions for purchases made through links in this article.
Sign up for tips & news for Marin families!