Back to top
Easy Mountain Biking Trails for Families in Marin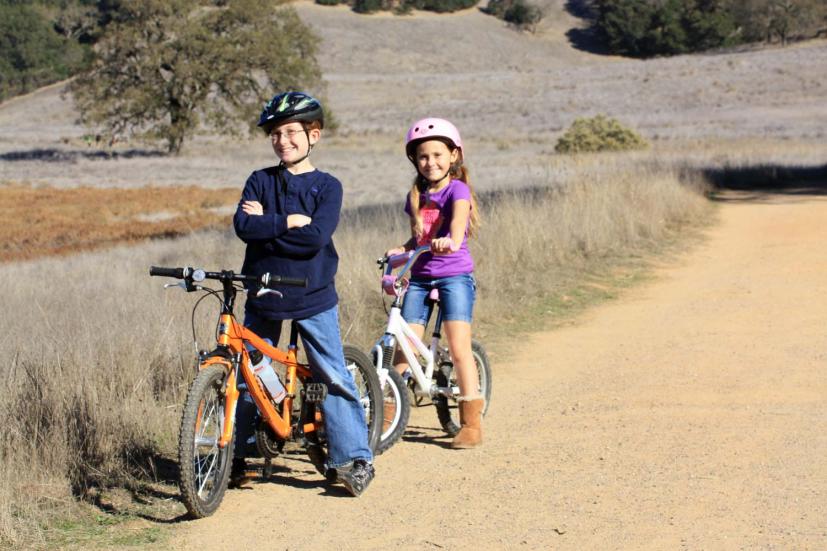 It goes without saying that mountain biking is an extremely popular activity in Marin, and for good reason—it was invented right here on the slopes of Mt. Tamalpais! There's really nothing quite like a ride down the trail, and it's a great activity for the whole family.
Get your kids started on cross-country cycling by trying out some of these easy, bike-friendly Marin trails. All you'll need is a mountain bike or other off-road capable bicycle and a helmet. (Make sure you bring plenty of water and some healthy snacks, too.)
All these trails are designated for bicycles, and have minimal hills and technical sections for easy riding and maximum fun for family riding.
One of the other benefits of riding off-road is the absence of cars and other related hazards. My daughter actually learned to ride her bike on some of these trails. Get them started early, and they'll be shredding in no time!
When riding with kids on the trails, make sure you teach them the basics of mountain biking courtesy to ensure a happy co-existence with other trail users:
Watch out for hikers and runners and let them know you're coming by ringing a bike bell or simply saying "hello." If you're coming up behind a hiker or group of hikers a polite "on your left" or "behind you" is usually appreciated. Don't assume a hiker or runner has seen you until they acknowledge your presence. Make it a practice to be polite and yield the right of way to hikers and runners when necessary, and don't forget to say "thanks" to people who yield to you on the trail.
When riding with slow-moving kids, be aware that there could be faster and more experienced cyclists on the trail; always yield the trail and scoot over for them.
You'll often find horseback riders on the trails listed here. Many horses are scared of bikes, and there's no way of knowing how skilled a rider is. Always yield the right of way to horses, and dismount your bikes when you encounter them, preferably when you're at least 50 feet away. Most horseback riders really appreciate this, and kids always love looking at horses, so everybody wins!
Respect the environment when you mountain bike. Stick to the trails designated for bikes, and never ride off the trails. Make sure you don't leave anything behind on the trail, too.
Above all, be friendly and have fun!
This sprawling state park near San Rafael is a popular destination for local mountain bikers. It's one of the few places in the Bay Area that has single-track trails open to cyclists, but families with beginning bikers will want to head for the wide easier paths like the Shoreline Trail. There's a $5 day-use parking pass fee here.
Located near McInnis Park in San Rafael, these ponds are surrounded by wide, flat gravel trails that form a 2.1-mile loop. The trails are popular with hikers, cyclists, runners, dog-walkers, and birders, and it's a great place to visit at any time of year.
This preserve in Novato is a favorite with hikers, mountain bikers, and equestrians. Most beginner cyclists will want to hit the Indian Valley Fire Road, but the Buzzard Burn and Pacheco Pond Fire Roads are open to bikes, too. Access the trails from either the trailhead off Indian Valley Road or from the College of Marin's Indian Valley Campus on Ignacio Boulevard.
Also in Novato, this open space area features wide and gently sloped trails that wind through oak forest and wetlands. You'll share the trail here with hikers and equestrians, and the preserve is usually teeming with waterfowl and other birds. The Rush Creek and Pinheiro Fire Roads and the Bahia Trail are especially good for beginning trail riders.
Part of the Golden Gate National Recreation Area, Tennessee Valley near Mill Valley is one of Marin's favorite places for outdoor recreation. The wide Tennessee Valley Trail is paved for part of its distance and is popular with bicyclists. There's one fairly large hill to climb along the way, but your reward is a beach and a spectacular view of the Pacific Ocean at Tennessee Cove. The entire trip out and back is 3.4 miles.
The Bear Valley Trail at the Point Reyes National Seashore Visitor Center near Olema offers a wide, flat, and sheltered trail that's perfect for beginning riders. You'll share this trail with numerous hikers, equestrians, and joggers, too. The trail slopes gently uphill on the trip out to Divide Meadow, which of course means it's all downhill on the way back. If you continue on the trail past Divide Meadow, you'll end up at Arch Rock and the Pacific Ocean. Bikes aren't allowed all the way, but you can lock them up at the end of the bikable section and hike the rest of the way to the ocean if you want.
This California state park under the redwoods near Lagunitas is home to the Cross-Marin Trail. It's not exactly offroad—it's paved and flat, in fact—but it passes through the park's beautiful redwood groves and alongside Lagunitas Creek, so it's a great place to take kids cycling in the outdoors.
The community-built 17-acre Bike Park at Stafford Lake County Park in Novato has features for all skill levels, including a perimiter trail, a dual slalom, a progression jump course, a beginner pump track, and a kids' learn-to-ride area. After riding, play on the playground and have a lakeside picnic at the park.
Sign up for tips & news for Marin families!