Back to top
Train Rides and Railroad Adventures for Kids in the Bay Area and Northern California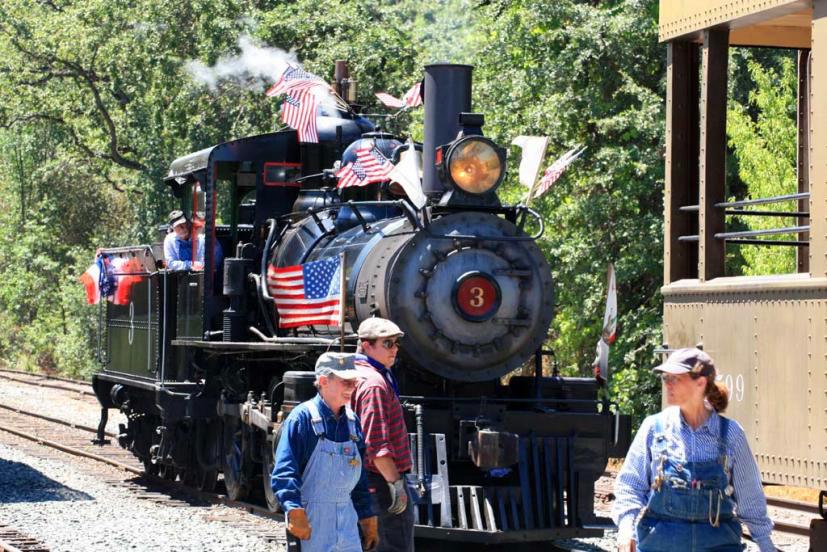 It's hard to resist the romantic notion of riding the rails in a train car pulled by an old-fashioned steam locomotive. It's something that captivates most kids — and many adults, too. Fortunately for railroad-obsessed kids and their parents, we have plenty of opportunities to take a real train ride in the San Francisco Bay Area and Northern California, on both working scale models and real, full-sized trains.
Many of these train rides are a short distance away, and some are great excuses for an exciting family day trip or weekend getaway. All of them are a lot of fun! Whether it's a miniature scale railroad or the full-size real deal, the sights and sounds of a train ride are unforgettable.
Keep in mind that many of these railroads keep to seasonal schedules, rides are often weather permitting, and sometimes equipment goes down for maintenance. Some offer train rides on weekends only. Make sure you check their websites or give them a call before you plan your visit.
The San Francisco Zoo offers rides on the Little Puffer Steam Train, pulled by a beautifully restored, century-old miniature steam locomotive. It's a must-do activity when you pay a visit to the zoo! (The Little Puffer is closed for maintenance through April 9, 2023.) 1 Zoo Road, San Francisco CA 94132, www.sfzoo.org
This scale railroad in the town of Sonoma has been delighting families since 1958. In addition to the train, pulled by scale steam and diesel engines, there's a petting zoo, miniature Western town, kid-size carnival rides, snack bar, and gift shop. Read more about TrainTown. 20264 Broadway, Sonoma CA 95476, www.traintown.com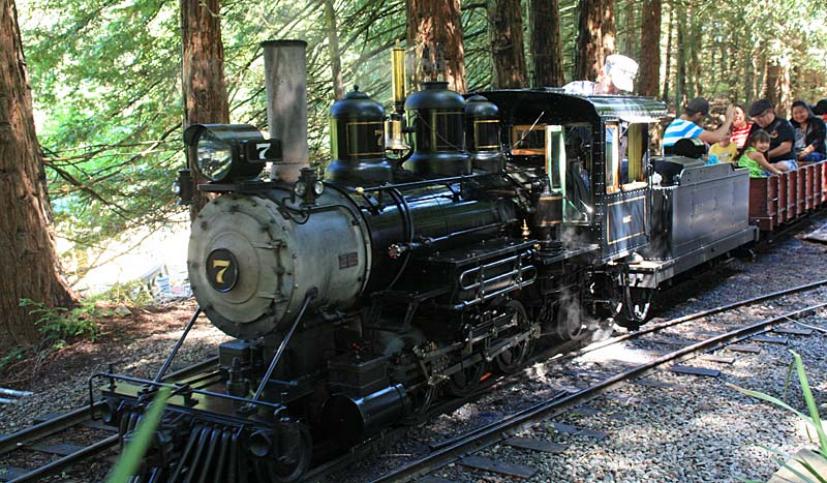 Located at the south end of Tilden Park in Berkeley the Redwood Valley Railway features incredibly detailed miniature live steam engines. 12-minute train rides take you through the railroad's namesake redwood forest. It's a magical experience! Grizzly Peak Boulevard and Lomas Cantadas Road, Berkeley, redwood-valley-railway.business.site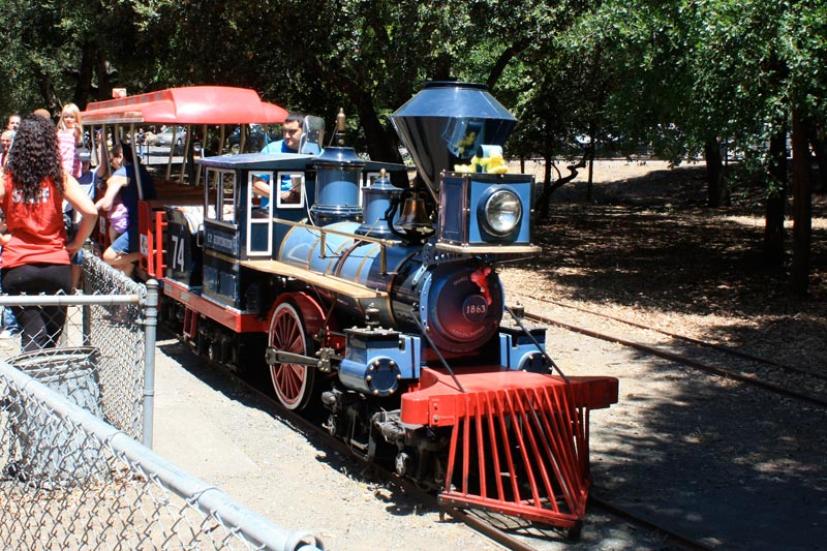 This sprawling park in Santa Rosa features a miniature railroad with a not-very-scary Haunted Tunnel and bridges. The park also boasts playgrounds, a carousel, hiking trails, a lake, a snack bar, and even an animal barn with friendly farm creatures to visit. Read more about Howarth Park. 630 Summerfield Road, Santa Rosa CA 95405, www.howarthpark.com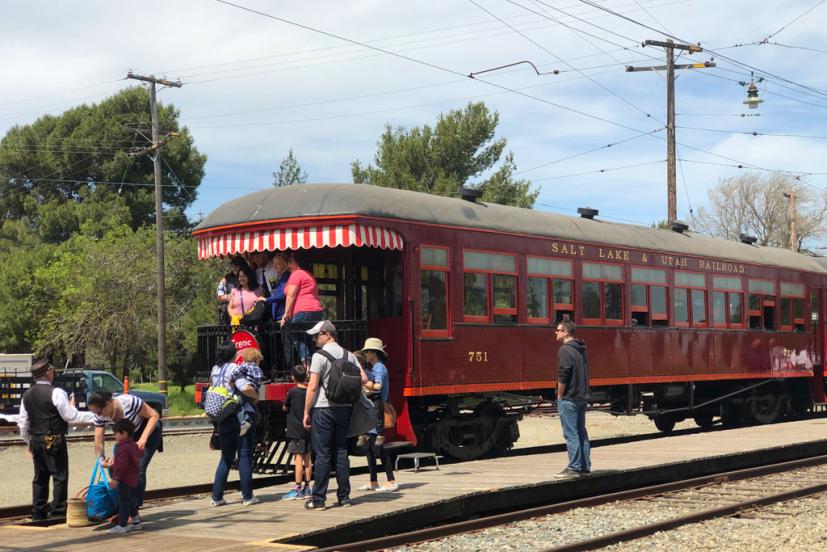 The Western Railway Museum near Suisun City in rural Solano County offers rides on historic electric interurban trains and vintage streetcars. With museum admission you can ride the trains and streetcars as much as you like! Special events here include the Scenic Limited wildflower excursion trains in April, the Pumpkin Patch Festival in October, and Santa trains in December. 5848 Highway 12, Suisun City CA 94585, www.wrm.org
Located up in the Gold Country town of Jamestown, Railtown 1897 is a must-visit destination for all railroad fans of all ages. Used as a filming location for countless Hollywood westerns, it offers train rides pulled by real vintage steam engines, including its flagship locomotive, the 1891 Sierra No. 3. Make sure you tour the 19th-century roundhouse and shops, too. It's well worth the trip up to the foothills, and it's hands-down our favorite railroad experience in California. Read more about Railtown 1897. 10501 Reservoir Road, Jamestown CA 95327, www.railtown1897.org
Sacramento's California State Railroad Museum is another mecca for railroad enthusiasts young and old. This sprawling museum tells the story of trains in California from the Transcontinental Railroad to the present day. After touring the museum and its amazing collection, take a ride on an excursion train pulled by a historic locomotive that departs from the nearby passenger terminal in Old Sacramento on weekends. Their popular Polar Express train ride during the holidays is something you have to do at least once in your lifetime! Read more about the California State Railroad Museum. 125 I Street, Sacramento CA 95814, californiarailroad.museum

Photo: Roaring Camp Railroads
This heritage railroad in the heart of the Santa Cruz Mountains offers steam-engine drawn train rides through the redwood forest or even all the way down the mountain to the Santa Cruz Beach Boardwalk. Roaring Camp Railroads is also home to countless events including a Civil War re-enactment, mock train robberies, a holiday lights train, and the ever-popular Day Out with Thomas, starring everyone's favorite very useful tank engine. 5401 Graham Hill Road, Felton CA 95018, www.roaringcamp.com

Photo: Wikimedia Commons/Drew Jacksich, CC BY 2.0
This heritage railway runs full-size trains pulled by historic locomotives through Niles Canyon, in the East Bay near Fremont. Real steam locomotives are used from the Niles station on select Sundays from April through August, with diesel engines the remainder of the time. Their annual Train of Lights is a beloved holiday tradition! 37029 Mission Boulevard, Fremont CA 94536, www.ncry.org

Photo: Wikimedia Commons/Drew Jacksich, CC BY-SA 2.0
The Skunk Train operates from the Mendocino County towns of Fort Bragg and Willits and offers rail excursions through the redwoods, up mountains, and along the Noyo River in vintage railcars and trains pulled by diesel engines or their 1924 Baldwin steam locomotive. Events include a the Easter Express, Christmas train, a Father's Day BBQ, and the Pumpkin Express. 100 Laurel Street, Fort Bragg CA 95437 or 299 East Commercial Street, Willits CA 95490, www.skunktrain.com

Photo: Yosemite Mountain Sugar Pine Railroad
This historic logging train offers rides pulled by vintage steam locomotives through the beautiful Sierra National Forest near Yosemite National Park's South Gate. One-hour narrated rides take your along four miles of track. While you're there you can go gold panning, too. 56001 Highway 41, Fish Camp, CA 93623, ymsprr.com
The Oakland Zoo's miniature railroad was re-worked with an Australian theme, and the ride takes your by down-under creatures like emus and wallaroos. Riders can also take in some amazing views of the Bay Area during the trip. 9777 Golf Links Road, Oakland CA 94605, www.oaklandzoo.org
 

Photo: Wikimedia Commons/Don DeBold: CC BY 2.0
The legacy of railroad engineer Billy Jones — a personal friend of fellow train buff Walt Disney — this miniature railroad operates out of Oak Meadow Park in Los Gatos. Families can take an exciting train ride pulled by a scale steam or diesel engine, ride a restored antique carousel, and more. 233 Blossom Hill Road, Los Gatos CA 95032, www.bjwrr.org

Photo: Western Pacific Railroad Museum
Located in Plumas County about an hour north of Truckee, the Western Pacific Railroad Museum is an exciting, hands-on experience for train buffs of all ages. In addition to train rides, you can also rent a locomotive to operate on their grounds under the guidance of your own personal instructor! Open April 13 through Labor Day. In addition, they offer a Pumpkin Express train ride in October and Santa Trains in December. 700 Western Pacific Way, Portola, CA 96122, wplives.org
Sign up for tips & news for Marin families!