Back to top
Best 5-and-Under Family Hikes in Marin
Taking the kiddos along for a hike on one of Marin's many fantastic trails is fun and rewarding. It can be a bit of a challenge though when they want to tackle the trail on their own but can't really go that far. Then there's the fact that toddlers and preschoolers don't always have the greatest of attention spans, which means that it's great to have something to see and do along the way.
We've put together a list of our favorite hiking spots in Marin County for families with kids in preschool or younger. They're all relatively short and easy to hike—and you can take along the off-road stroller for backup, just in case. (If you're looking for hikes that are perfect for strollers but maybe a little longer than these, check out our guide to stroller hikes in Marin County.)
The Earthquake Trail at Point Reyes National Seashore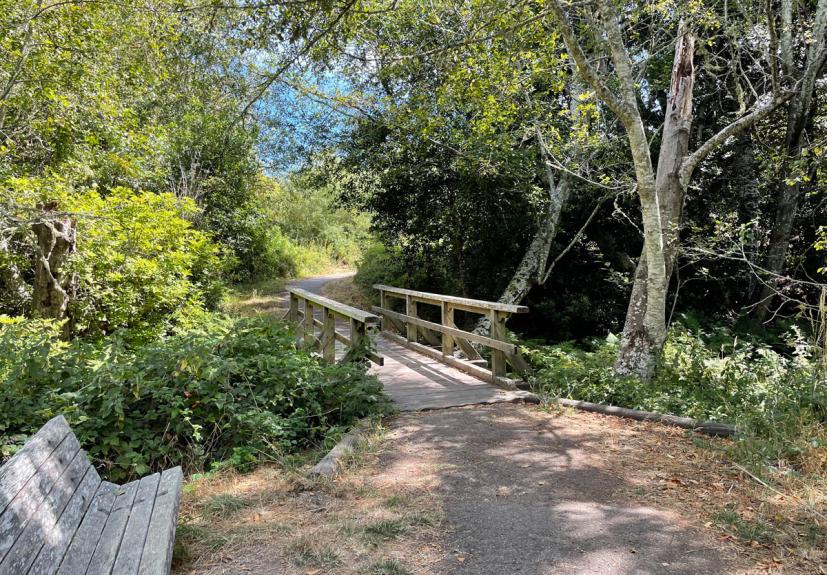 The Point Reyes Visitor Center near Olema is surrounded by numerous hiking trails that are perfect for a walk with little ones. Families will love the easy, paved Earthquake Trail, which tells the story of the 1906 San Francisco Earthquake and its effects on Point Reyes and crosses several little bridges. Find out more info here.
O'Hair Park, Novato
Sharing space with the Dogbone Meadow dog park and Morning Star Farm equestrian center, the 100-acre O'Hair Park is a great place for a family bike ride, hike or off-road stroller. The Reuben Kaehler Memorial Trail forms an easy loop of approximately two miles. Novato Creek parellels much of the trail, and it's fun to clamber down to the creekside to look for little fish and water bugs while you're on your hike.
Las Gallinas Wildlife Ponds, San Rafael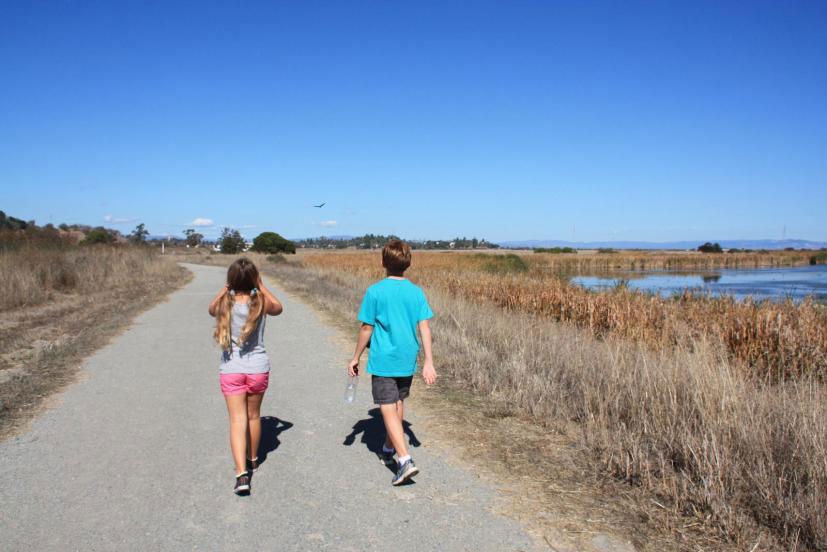 Improbably located on the grounds of the Las Gallinas Valley Sanitary District near McInnis Park in San Rafael, this complex of ponds surrounded by flat gravel trails is perfect for an easy hike. Be prepared to see a huge variety of birds, from pelicans and egrets to hawks and turkey vultures to black crowned night herons and ducks of all kinds. Don't forget to bring the binoculars! After your hike, you can swing by the Slush by the Park snack bar at McInnis Park for a treat.
Indian Valley Open Space Preserve, Novato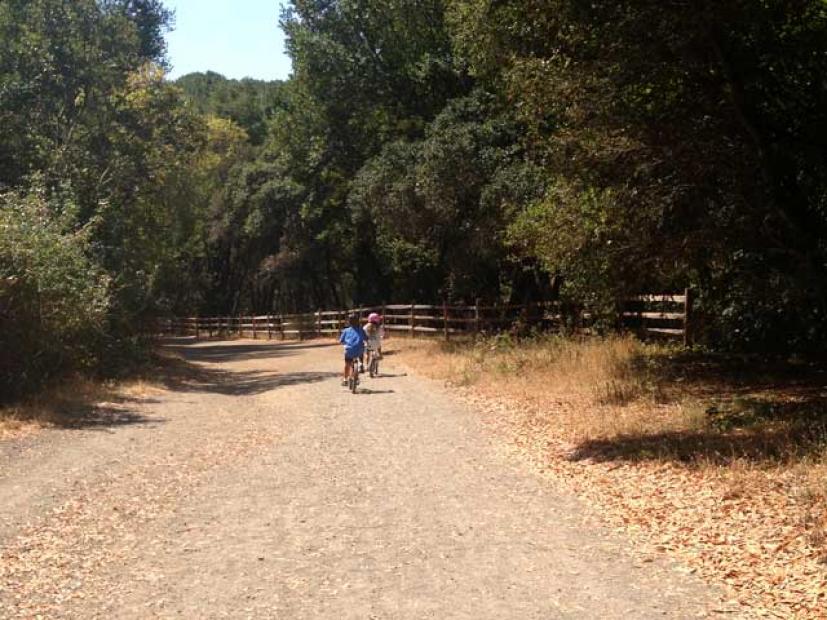 Indian Valley Open Space Preserve, adjacent to College of Marin's Indian Valley Campus in Novato, is criss-crossed by trails and fire roads that are perfect for an easy hike. The tree-shaded trails are cool during the summer, and Pacheco Pond is a great place to look for aquatic critters like frogs, toads, salamanders, and newts. There's even a seasonal waterfall on the aptly-named Waterfall Trail.
Olompali State Historic Park, Novato
Nestled at the foot of Mount Burdell just north of Novato, Olompali State Historic Park has plenty of flat trails that pass over creeks, by an old barn (home to a colony of bats) and farm buildings, and even to a reconstructed Miwok village and native California plant garden. The ruined Burdell Mansion was once home to the Grateful Dead and a hippie commune back in the 1960s.
Tennessee Valley Trail, Mill Valley
The Tennessee Valley Trail is one of Marin's most popular spots for outdoor recreation, and a favorite with hikers, cyclists, and trail runners of all ages. This easy 3.4-mile out-and-back hike has its halfway point at Tennessee Cove, home to a beautiful beach that's a perfect place for a picnic or mid-hike break. It's manageable with an offroad jogging stroller, too. Go during the week or in the mornings to avoid weekend crowds in the parking area. Find out more here.
The Bay Trail at Hamilton
The Bay Trail opened in the summer of 2014 in Novato's Hamilton neighborhood, and it's one of our favorite Marin spots for short hike or bike ride with the kids. With easy access from several points in Hamilton and stunning views, this is a great place for families to head outdoors for an active outing. The Hamilton section of the Bay Trail skirts the old runway of this former air force base, which has been returned to its original wetland state. The trail is flat and accessible, and welcomes walkers and cyclists to travel along the wetlands that border San Pablo Bay. It is, of course, ideal for walking with an sturdy stroller, too.
Cascade Falls, Mill Valley
Cascade Falls, a seasonal waterfall that can be found in Mill Valley's Cascade Park, is the destination of one of Marin's easiest and most rewarding waterfall hikes. It's a short out-and-back or loop hike that's easy enough for just about everyone in the family to tackle, and the waterfall is amazing, especially after a rainstorm. The hike is only about half a mile round-trip if you start at the Cascade Falls trailhead on Cascade Drive.
Samuel P. Taylor State Park, Lagunitas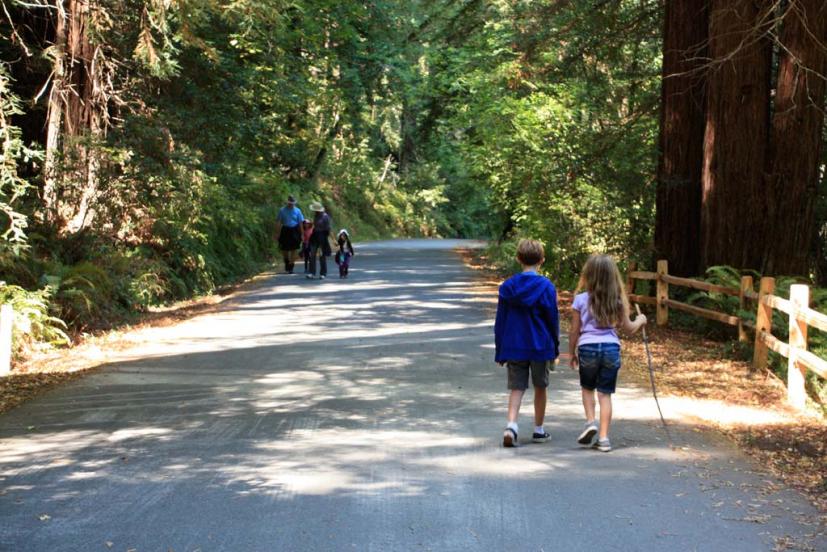 This park along Paper Mill Creek offers a nice selection of easy trails, picnic areas, and a shady redwood forest. The Cross Marin Trail was once the route of the old North Pacific Coast Railroad, and kids can clamber down to the creek to explore and splash in the water. The creek is home to spawning salmon during the winter months, and you can watch them swimming upstream from several vantage points.
Sign up for tips & news for Marin families!