Back to top
7 Sensational Ways to Beat the Heat this Labor Day Weekend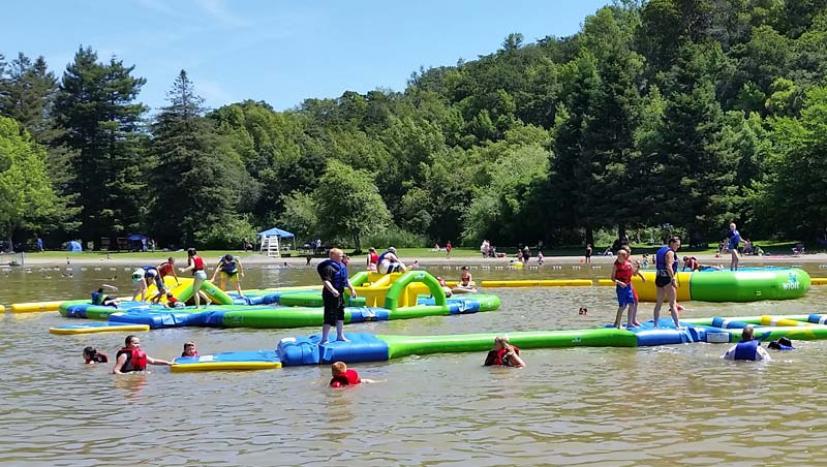 When the late summer temperatures start to heat up, then it's time to find a place to cool off with the kiddos. Here are our favorite ways to beat the heat with the family on hot day in Marin and the Bay Area.
Take a ferry ride to Angel Island
Hop on the ferry in Tiburon and take a refreshing ferry ride over the Bay to Angel Island State Park. Explore historic sites, splash on the beach in Ayala Cove, have a picnic, or just relax.
Splish splash at the Hamilton Community Pool
The Hamilton Community Pool in Novato is one of our favorite places to swim in Marin. With its cool water play structure and slide, the kiddie pool is a blast for the little ones, while older kids and adults can swim in the bigger pool. The expansive lawn area with BBQ grills and picnic tables encourages you to make a day of it.
Play at the water park at Spring Lake
Pack up the kids and head north to Santa Rosa's Spring Lake Regional Park to play on their new inflatable water park. This summer, their swimming lagoon has been transformed into a aquatic playland with trampolines, balance beams, climbing walls, and more. Of course you can just swim, too.
Take a walk through the redwoods
When it's blazing hot in Marin, a majestic redwood forest is an oasis of cool. Check out our own Muir Woods near Mill Valley for cool fun in the shade of giant coast redwoods. Better yet, beat the summer tourist crowds and head up to Armstrong Redwoods State Natural Reserve outside of Guerneville in Sonoma County. It's nearly as amazing as Muir Woods but without the congestion and parking craziness. Bonus: go for a swim afterward at Johnson's Beach on the Russian River in Guerneville!
Head to the beach in Point Reyes
When it's hot inland it's almost always guaranteed to be cool in West Marin. A trip to Point Reyes is always good for bringing the car thermometer down a few degrees. Chill out at some of our favorite Marin beaches including Limantour (don't forget your kite!), Heart's Desire, and Chicken Ranch beaches.
Swim and relax at McNears Beach
McNears Beach Park in San Rafael has been a destination for family summer fun in Marin for decades. Keep cool with a swim in the pool or a splash in the waters of San Pablo Bay, and an ice cream bar or popsicle from the snack bar. This is another place where you can bring a picnic and relax in the shade all day while the kids play.
Spend the day at the water slides
A day at a thrilling water park has to be one of the ultimate ways to cool off this summer. You'll find a handful of water parks scattered around the San Francisco Bay Area, most of which have water slides, lazy rivers, and other attractions. The closest one to Marin is probably Water World in Concord—find out all about it and others in the area in our guide to local water parks.
Sign up for tips & news for Marin families!